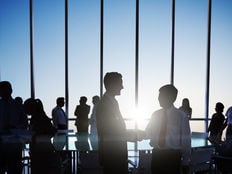 The SPDR Mid-Cap 400 (MDY B) and rival mid-cap ETFs often generate better returns and than rival large and small-cap ETFs, but mid-cap stocks are also an often ignored asset class. There are inklings that status is starting to change for the better.
MDY tracks the widely followed S&P MidCap 400 Index. Over a long-term horizon, though, mid-caps have outshined the competition. Since 1996, the S&P MidCap 400 generated an average annual return of 10.4%, compared to 7.3% for the S&P 500 and 9.7% for the SmallCap 600.
Historical data indicate that even modest allocations to mid-cap stocks can improve long-term returns compared to portfolios that don't feature mid-cap exposure.
"The Dual Momentum mix of assets with mid-caps included had the stronger performance," said State Street in a recent note. "Beyond the cumulative outperformance since 1995 (879% vs. 772%), additional metrics underscore the potential power of the middle, as shown below. The Dual Momentum with mid-caps not only had higher returns but also higher Sharpe and Sortino ratios and lesser drawdowns."
Why Mid Caps Matter
Mid-cap companies are slightly more diversified than their small-cap peers, which allows many mid-sized companies to generate more consistent revenue and cash flow, along with providing more stable stock prices. Additionally, they are not so big that their size would slow down growth. Increased mergers and acquisitions activity could be just what mid-caps need to catch up to large- and small-cap stocks.
The mid-cap category has also outperformed their larger peers, but with lower volatility than small caps. Moreover, the returns of mid-cap stocks have also beaten those of small-cap stocks during the trailing three-, five-, and 10-year periods, with lower volatility.
"Understanding the appropriate allocation to mid-cap equities within a broader asset allocation framework will depend on the individual investors' risk and return profile," according to State Street. "Investor preference notwithstanding, a distinct allocation to mid-caps should be a part of any strategic or tactical asset allocation mix, as basic examples show that the effects of avoiding the middle can potentially negatively impact portfolios."
This article originally appeared on ETFTrends.com.
---
Content continues below advertisement