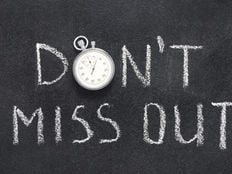 The SPDR Mid-Cap 400 (MDY B) and rival mid-cap ETFs offer significant potential for long-term investors, but advisors and investors often under-allocate to this asset class.
MDY tracks the widely followed S&P MidCap 400 Index. Over a long-term horizon, though, mid-caps have out-shined the competition. Since 1996, the S&P MidCap 400 generated an average annual return of 10.4%, compared to 7.3% for the S&P 500 and 9.7% for the SmallCap 600.
Data confirm that mid-cap funds are home to less capital than their large and small-cap peers, but that mid-caps also perform well over the long haul.
"Only $782 billion is invested in pure mid-cap strategies, compared with $6.7 trillion in large caps and $825 billion in small caps," said State Street in a recent note. "Yet, mid-caps have historically offered greater growth potential than large caps and less volatility than small caps."
The mid-cap category has also outperformed their larger peers, but with lower volatility than small caps. Moreover, the returns of mid-cap stocks have also beaten those of small-cap stocks during the trailing three-, five-, and 10-year periods, with lower volatility.
Ignore The Bias
Much of investors' treatment of mid-cap stocks can be attributed to bias toward large caps and bias ascribed to the growth potential of small caps.
"Mid-caps' underrepresentation in portfolios is not due to unappealing fundamentals or lackluster returns, but a structural bias," according to State Street. "Neither the fundamental Wall Street analysts nor the academic quantitative investors pay attention to mid-caps. Fundamental analysts focus on well-known firms with heavy media coverage and high-profile earnings reports. In fact, twice as many analysts, on average, cover large-cap stocks as cover mid-cap stocks."
Related: How Sector Tilts Impact Mid-Cap ETFs
Mid-cap companies are slightly more diversified than their small-cap peers, which allows many mid-sized companies to generate more consistent revenue and cash flow, along with providing more stable stock prices. Additionally, they are not so big that their size would slow down growth. Increased mergers and acquisitions activity could be just what mid-caps need to catch up to large- and small-cap stocks.
"Large-cap stocks offer the stability that comes with mature multinational businesses with diverse revenue sources," according to State Street. "Small-cap stocks are unproven, but they offer potential for further expansion and market penetration. And mid-caps offer a unique combination of the managerial maturity associated with large caps and the operational dexterity of small caps."
This article originally appeared on ETFTrends.com.
---
Content continues below advertisement