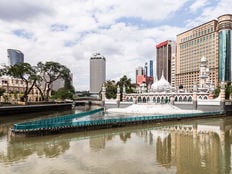 Emerging markets assets have been under some pressure amid the US/China trade spat, but with low bond yields around the world, debt issued by developing economies could be worth considering for income investors.
For its part, the ProShares Short Term USD Emerging Market Bond ETF (EMSH C) remains in the green year-to-date and offers a 3.42% yield. That's attractive relative to nearly every developed market bond ETF.
EMSH, which is higher by more than 2.5% this year, tracks the DBIQ Short Duration Emerging Market Bond Index. EMSH's holdings are dollar-denominated, meaning those bonds stand to benefit as the U.S. dollar declines because financing that debt is easier when the dollar loses value.
"Adrian Helfert, director of multi-asset strategies at Westwood Holdings Group, said expectations for further rate cuts from the U.S. central bank and the subsequent drop in long-term government bond yields across the world have alleviated pressure on emerging-market monetary-policy makers who now enjoy more room to cut rates if economic conditions worsen, a move that would likely boost emerging-market debt," reports Sunny Oh for MarketWatch.
EMs Trimming Borrowing Costs
While lower rates in the U.S. boost the case for EMSH, so do a spate of rate reductions throughout the developing world. Recently, central banks in Brazil, Mexico, and Thailand, just to name a few, have trimmed borrowing costs. Brazil and Mexico combine for nearly 16% of EMSH's geographic exposure.
Brazil and Mexico, Latin America's two largest economies, have signaled they will continue lowering interest rates.
EMSH could be even more appealing if the U.S. dollar, which has been steady this year, weakens.
"Analysts say higher U.S. debt yields are detrimental to the governments of fast-growing emerging economies as they can spur additional gains in an ascendant greenback. A strong dollar and a weaker local currency not only makes it more expensive for a country to pay its debts, but it can also increase the cost of imports, thus fanning inflation," according to MarketWatch.
Related: Why Emerging Markets Debt ETFs are a Solid Idea
EMSH is "designed to offer the attractive yield potential of emerging markets bonds with less interest rate sensitivity than a long-term bond fund," according to ProShares.
The ETF has a duration of just 2.52 years.
This article originally appeared on ETFTrends.com.
---
Content continues below advertisement