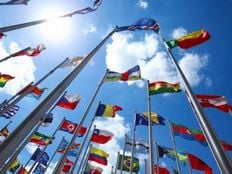 Tired of all the Fed watch back and forth? Investors appear to be turning away from reading the FOMC tea leaves and instead looking abroad from U.S. equities to international offerings. Nine of the top performing categories on YCharts over the last month were explicitly based outside of the U.S., from China to Europe to broad Asia-focused equities. As such, investors looking to capitalize on those returns may want to consider an active international ETF trio from Avantis.
The three strategies from the American Century Investments' brand are the Avantis International Small Cap Value ETF (AVDV ), the Avantis International Equity ETF (AVDE B), and the Avantis International Large Cap Value ETF (AVIV B-), with each offering a slightly different spin on international and foreign exposures.
There are reasons to be excited about international investing for this year outside of looking for alternatives to U.S.-based uncertainty and overreliance on struggling tech stocks. The Pacific/Asia ex-Japan Stock category returned 3.9% over one month according to YCharts, with 3.5% and 3.3% for the Foreign Small/Mid Value and Foreign Large Value categories, respectively.
For one, that energy stocks will continue to perform for investors in 2023 following a positive 2022. The world isn't out of the woods yet when it come to the kind of geopolitical risks to energy availability that can drive prices up, either, like Russia's invasion of Ukraine and subsequent sanctions.
The U.S. dollar may also fall off in 2023 as U.S. domestic political issues spike and global governments and investors alike , which could boost foreign firms. Finally, with China loosening its zero-COVID rules and reopening, there may push international stocks forward overall.
All three strategies in the active international ETF trio of AVDV, AVIV, and AVDE are actively managed, with the latter the only member of the trio not specifically focused on value opportunities. All three have outperformed their respective ETF Database Category averages over both one and three months, with AVIV's 20.9% return over three months the strongest performance of the three.
AVDV, AVDE, and AVIV have added $124 million, $82 million, and $31 million in one month in net inflows, charging 36, 23, and 25 basis points respectively. The active international ETF trio has momentum to start the year, and with their active approach may be poised to navigate whatever volatility 2023 may have to throw not only at the U.S. but the world overall.