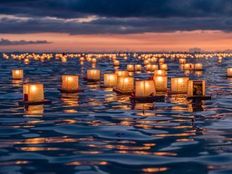 Had enough of the volatility so far this year? Just a fourth of the way through 2023, and the compounded challenges of a possible recession, rising rates, and the recent bank crisis have markets and investors looking for solutions. One way to buoy portfolios right now may be income, with a floating income ETF like the recently launched American Century Multisector Floating Income ETF (FUSI A-) an intriguing option.
Launched Thursday, FUSI looks to be a cousin of American Century's other income strats (MUSI C+) and the (SDSI ). FUSI is actively managed and aims to provide investors income as well as long-term capital appreciation, investing across investment grade floating rate securities in areas like collateralized loan obligations (CLOs), commercial and residential mortgages, and corporate credit.
"Demand for fixed income ETFs has been strong in 2023, as advisors have gained comfort in the liquidity and diversification benefits these funds have provided while generating meaningful income," said VettaFi's head of ETF research, Todd Rosenbluth. "It is great to see American Century broaden its ETF lineup."
FUSI charges 27 basis points with a target duration of less than a year and is also allowed to invest up to 35% of its portfolio in below-investment-grade securities, giving it short-term flexibility to provide current income from securities across a range of risk tolerances.
FUSI differs from MUSI with its focus on floating securities. MUSI is also actively managed, charging 36 basis points to invest in a global bond portfolio without a duration limit in equity securities, preferred stock, and convertible securities in areas like bank loans and investment grade corporates. MUSI has outperformed its ETF Database Category Average and its Factset Segment Average on a year-to-date basis, outperforming those measures by 12 and 41 basis points, respectively.
SDSI sharpens that focus on short duration fixed income, an actively managed strategy launched this past October that charges 32 basis points. SDSI looks specifically to mitigate the impact of rising interest rates, with a weighted average duration of three years or shorter. It has outperformed its averages YTD by three and twelve basis points, respectively.
FUSI looks to complement those strategies, and in a year in which volatility has made it difficult to identify a clear path forward for investors, a floating rate income ETF could be an appealing source of income ballast for advisors and their portfolios.
For more news, information, and analysis, visit the Core Strategies Channel.