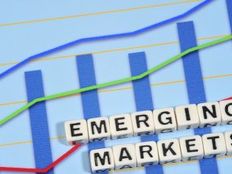 Entering 2023, markets had reason for a dour perspective — a brutal 2022 market selloff and all kinds of uncertainty have loomed on the horizon for weeks now. But with a new year comes the annual release of predictions, with one notable take from firms like suggesting that there may be emerging markets upside to consider.
Yes, global markets will remain impacted by geopolitical risk, with Russia's war on Ukraine, the fallout of China's loosened COVID policies, and the U.S.-China trade war among them. But with the U.S. facing the distinct possibility of a recession this year as the Fed funds rate vise tightens around inflation, looking abroad could offer some intriguing opportunities.
For one, EM companies have at just 1.5 times earnings as of last month, while at the same time a stronger dollar could benefit exporters of commodities. Lower valuations from last year's selloffs, too, bear mention as a source of possibility for the shrewd investment manager to thrive. The old BRICS countries, minus Russia perhaps due to its excision from many investors' considerations since its invasion, lead the way in the EM space as areas to watch.
That's where the emerging markets upside ETF duo, the and the )+ can play a role. The two strategies from American Century Investments' brand Avantis Investors both use the MSCI Emerging Markets Index as a benchmark, charging 33 basis points for their active investment approaches.
AVSE limits its universe of emerging markets stocks to those that meet multiple ESG criteria based on third party ESG data and scoring merged with a proprietary screening model. The remaining firms are then judged based on fundamentals, with a resulting lean towards small-cap growth stocks.
Meanwhile, AVEM actively invests to outperform the tracked index, also leaning towards small-caps with strong profits and low valuations in emerging markets and underweighting large-caps with low profitability.
AVEM and AVSE have seen one-month net inflows of $229 million and $8.6 million respectively, both outperforming their respective categories over the last three months with 13.3% and 13.12% returns respectively, as well.
Investors may be feeling nervous looking at the U.S. market in the next few months, with developed markets like Europe also bracing for some challenges. Emerging markets upside, meanwhile, may be just what the doctor ordered in AVEM and AVSE, two ETFs to watch in the near term.