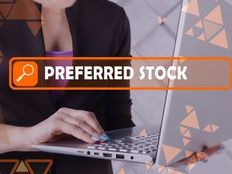 Are things looking up or looking down for the markets? Investors seem to be waiting for a clear answer from the Fed and a concrete answer to when the U.S. might see a recession before markets get to decide. Until then, investors may want to keep an eye on a preferred securities ETF which combines the benefits of stocks and bonds with dividends, like the .
Preferred securities or preferred stocks are typically issued by banks and insurance companies and have the potential to offer investors higher yields than common stocks or corporate bonds. Perpetually available with no outright maturity and variable rate structures like fixed- or floating-rate setups, preferreds offer investors a reasonable amount of flexibility in how they want to store their cash and keep it working for them.
Preferreds dipped in 2022 through late November, which may create the opportunity for a rebound as preferred yields reached levels not seen in years even as they dipped toward the end of the last year. That current income could buoy investor portfolios while waiting for the Fed to make a decision regarding its terminal rate, or for the economy to enter a recession or not.
QPFF could be the right preferred securities ETF to track as 2023 has well and truly started. The strategy from American Century Investments is an actively managed fund and invests in preferred securities from U.S. and non-U.S. firms, with a lean towards larger, more liquid securities. The ETF screens for fundamental and technical metrics like liquidity, credit risk, size, quality, and momentum, with quality meaning high-profitability firms able to maintain dividends even in tough times.
Concentrating on the financials sector, the strategy has outperformed its FactSet segment average over the last three months, returning 7.4% in that time. QPFF charges 32 basis points and offers a 3.1% annual dividend yield to investors.
Uncertainty is the name of the game right now, as it has been for the last few years. Investors are watching for signals to move on from the Fed, earnings, and more — but until then, current income from a preferred securities ETF could be worth considering. For those who find the idea appealing, QPFF is one such ETF to watch.
For more news, information, and analysis, visit the Core Strategies Channel.