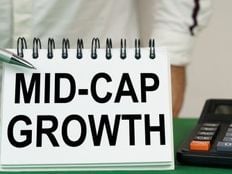 Environmental, social, and governance (ESG) investing continues to remain a force to be reckoned with, and when you combine that with the momentum of mid-caps, it could make for a potent portfolio booster.
Mid-caps are a particularly attractive option, given that they exhibit the characteristics of small-caps when markets swing to the upside. They also have the ability to mute the downside better than small-caps, which can help when volatility strikes — they essentially strike a solid balance between small- and large-caps.
As far as ESG goes, its effects reach far beyond the investment world. More consumers are ESG-focused these days, keeping the environment and sustainability in mind when shopping for goods.
"When consumers are asked if they care about buying environmentally and ethically sustainable products, they overwhelmingly answer yes: in a 2020 McKinsey US consumer sentiment survey, more than 60 percent of respondents said they'd pay more for a product with sustainable packaging," research firm McKinsey noted. "A recent study by NielsenIQ found that 78 percent of US consumers say that a sustainable lifestyle is important to them."
An Active Option for ESG Growth
While markets are rallying, there are still a lot of unknowns that can rattle the markets and pour a heavy dose of volatility on investors' portfolios. That said, active management is an option that puts stock selections in the hands of seasoned market professionals.
To get the aforementioned exposure of mid-caps and the exponential growth prospects of ESG, consider the (MID C), which uses an actively managed strategy for dynamic exposure — dynamic in that holdings can change when market conditions warrant an adjustment. As investors are well aware of after last year, having that level of flexibility is a huge plus.
The fund invests in innovative businesses believed to have strong balance sheets, are making a positive societal impact, and may grow as a consequence of durable investment themes. As of January 31, the fund is weighted mostly towards technology and healthcare — the former is of benefit in that it can capture upside in a tech rebound, while the latter adds a layer of stability (as the healthcare sector often does).
For more news, information, and analysis, visit the Core Strategies Channel.
---
Content continues below advertisement