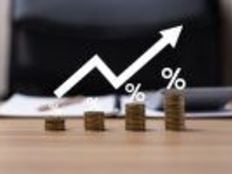 The pace of inflation easing slowed in January from December Tuesday, with the consumer price index CPI having climbed 6.4% in last month year over year compared to 6.5% in December on a y-o-y basis. As inflation digs in, it may be a good opportunity for investors to take a look at the blooming crop of active ETFs and their increasingly sizable role in the ETF landscape, with the Avantis Inflation Focused Equity ETF (AVIE B+) an inflation equity ETF to watch.
One of the major themes of last year was the mini boom in active strategies according to Avantis Investors' parent firm American Century Investments. Nearly 64% of new launches last year were active ETFs, with the segment hitting a 30% organic year-over-year growth rate which almost tripled up on the 8% growth rate of ETFs as a whole, according to American Century's Sandra Testani, vice president of ETF product and strategy. Add in that the $88 billion added to active strats in 2022 topped the record set in 2021, and the case becomes clearer.
That spike for active strategies comes at a good time, too, if the signs of persistent inflation come to fruition. A higher or longer regime for rates could benefit active managers who can find success in nontraditional equities or equities that can benefit even amid ongoing price hikes – which is where an inflation equity ETF can make a play.
AVIE could be one strategy to follow in the next few weeks to see. The strategy is actively managed, charging a 25 basis point for its exposure to sectors and industries that positively correlate with the U.S. inflation rate, evaluated on size, profitability, and valuations metrics like book value, operational cash flow, and accruals. The strategy also overweight's securities with smaller market caps, higher profitability, and lower valuations, picking up $7.1 million in inflows over the last month.
Inflation is a serious concern for everyone, and with the latest numbers suggesting that markets may need to hunker down for a long fight against price hikes, AVIE could be a strategy to watch. Its active approach joins a growing field of active strategies, which could be just the touch needed to perform in such an environment.
For more news, information, and analysis, visit the Core Strategies Channel.