The start of earnings season proper provides investors with the opportunity to take stock and reassess how certain themes might be primed to perform for the rest of the year. One area that deserves a second look according to a recent research note from American Century Investments may be emerging markets, or EM equities, and their potential to see rebounding corporate earnings for the rest of 2023.
A few factors are boosting EM equities entering this year include valuations, a moderating U.S. dollar, and corporate earnings bottoming out. Per American Century's investment outlook for the rest of 2023, EM equities stocks are priced pretty well right now, at or below historical discounts compared to developed markets, with earnings bottoming compared to developed markets earnings that still face some notable risks.
At the same time, China's reopening is expected to boost EM equities overall, while most such economies are mostly done with their rate cycles to combat inflation compared to Europe and the U.S. The U.S. also plays a role in a weaker end to 2023 for the U.S. dollar, historically associated with better outcomes for EM equities.
Two ETFs to watch for emerging markets come from American Century's Avantis Investors brand, a suite of strategies that has ridden a strong start to the year for active ETFs. Both the Avantis Emerging Markets Value ETF (AVES A-) and the Avantis Emerging Markets Equity ETF (AVEM B+) offer an intriguing active approach to emerging markets, with both a value and overall equities view on emerging markets.
See more: Don't Miss Out as Emerging Markets Value ETF Signals Buy
AVES and AVEM charge 33 and 36 basis points respectively, with AVES investing in emerging markets firms from multiple market sectors that are trading at lower prices relative to their book value ratios, emphasizing high probability and cash flows. AVES has added $15 million in net inflows over the last month. AVEM, meanwhile, has added $95 million in that time. AVEM looks to underweight large-cap companies with lower profitability, investing across all market caps as it aims for outperformance.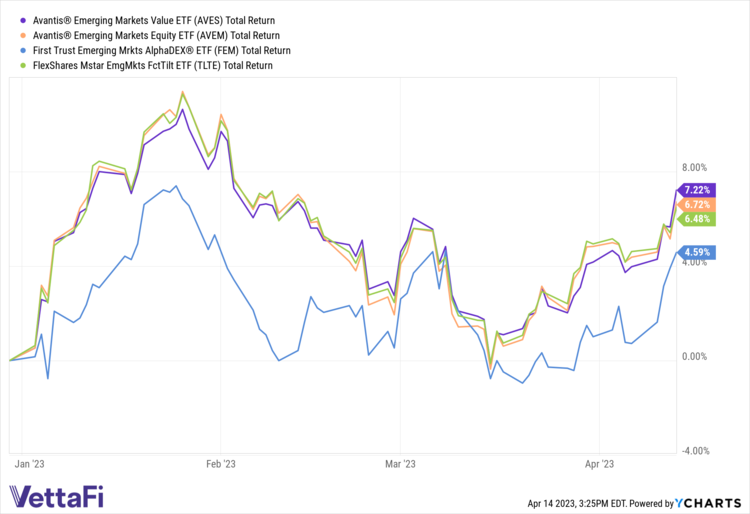 Should EM equities indeed rebound, the duo of AVES and AVEM could be an appealing option to play the space in the second half of the year. With the U.S. equities space appearing overvalued relative to their EM counterparts, a pair of active and relatively low-fee strategies may be worth keeping an eye on.
For more news, information, and analysis, visit the Core Strategies Channel.
---
Content continues below advertisement