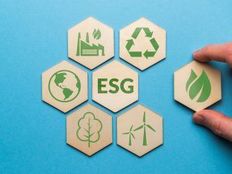 ESG strategies haven't had the easiest go of it over the last several months, with last year a tough one for an increasingly politicized investing thesis. Nor have non-transparent strategies bloomed as some may have thought, with advisors and investors seemingly uninterested overall in guarding daily holdings to prevent possible front running. So what explains the strong YTD performance from a non-transparent ESG ETF in the (ESGY B-)?
In a year that has seen strong numbers for American Century Investments' Avantis Investors suite, with strategies like the (AVUV ) adding $710 billion in YTD net inflows, ESGY has actually seen the strongest returns across both Avantis and American Century's ETFs. ESGY has returned 10.7% YTD according to YCharts, while not reporting its holdings outright — a full 2% more than the (FDG C+) which has returned 8.4% YTD.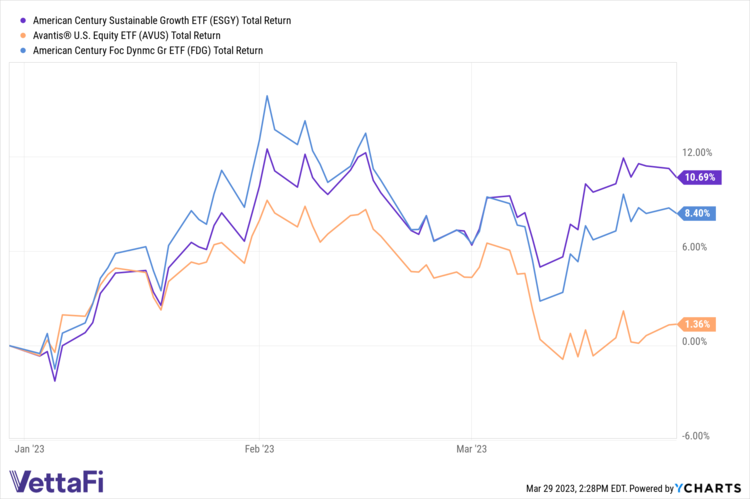 Of course, due to its non-transparent approach, it's hard to assess how ESGY has maneuvered YTD, but its investment approach can provide some helpful clues. ESGY actively invests in U.S. large-cap growth stocks with an eye towards both positive fundamentals and ESG factors, using a multi-factor model to assess the Russell 1000 Growth Index.
The Russell 1000 Growth Index has broadly matched the returns of ESGY YTD, with ESGY outperforming the index by about 2% over the last three months, which may speak to its positive fundamentals investing thesis. When combined with an ESG screen, it could present an appealing offering for those investors and advisor clients for whom ESG is an important part of their investment plan.
See more: Chart of the Week: Advisors Plan to Use Active ETFs More in 2023
That could be a key differentiator for the non-transparent ESG ETF in the weeks and months ahead as institutional investors are still looking at upping their allocations to sustainable strategies. ESG may have a tough time due to politics, but demand is still there, and with climate issues worsening and more environmentally-minded generations beginning to invest, the case remains a potent one.
There are not many non-transparent ESG funds out there, but ESGY has done well for itself to start 2023. With a lot of volatility in store, there are no guarantees, but it may well be one to watch for those looking for an ETF that guards against front running and offers a sustainable lens.
For more news, information, and analysis, visit the Core Strategies Channel.
---
Content continues below advertisement