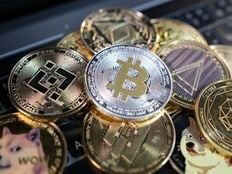 Following four consecutive months of gains, bitcoin stumbled on the first trading day. The failure of First Republic Bank and speculation that the Federal Reserve could offer a more hawkish than expected forecast later this week are among the culprits behind the Monday slide.
It's possible that the next several days could be challenging for cryptocurrencies, but for investors willing to take a longer view of digital assets, bitcoin's ominous start to May could represent a buying opportunity. The same could apply to exchange traded funds such as the (SATO ).
SATO, which follows the Alerian Galaxy Global Cryptocurrency-Focused Blockchain Equity, Trusts and ETPs Index, holds mostly stocks, but those components are correlated to bitcoin price action. Said another way, the Invesco fund presents investors with an avenue to participating in potential bitcoin upside while not having to directly own the digital currency.
That's relevant on multiple fronts. First, direct crypto ownership isn't suitable for all market participants, Second, SATO still offers responsiveness to bitcoin price movements, making it a potentially useful instrument for tapping the asset's rebound capabilities — a scenario some market observers believe will materialize.
"Bitcoin and the crypto financial system were made exactly for times like today," wrote Bernstein analyst Gautam Chhugani. "Crypto was not simply a bubble of the low-interest era (maybe it temporarily was). Crypto is emerging as a solution amidst economic breakdown and an alternative to centralized money systems."
Chhugani added that bitcoin could be an ideal asset for environments in which there's stress in the traditional banking system. That's exactly what's taking place today. With the collapse of First Republic, three domestic banks fell apart in recent months, representing three of the largest bank failures in U.S. history.
Another point that could work in favor of bitcoin and SATO is a weaker dollar, which could be hastened by some members of Congress and the White House proving reluctant to reduce spending. Some bitcoin backers believe that the asset is one of a small number that could benefit from the rapidly increasing U.S. debt burden.
"As the narrative towards a weaker dollar picks up, we believe bitcoin will emerge again as a faster horse than gold," Chhugani said. "Further, we believe it will also unleash a new crypto cycle, bringing about a new wave of innovation in crypto-based decentralized financial systems."
SATO has 37 holdings and an annual expense ratio of 0.61%, or $61 on a $10,000 investment.
For more news, information, and analysis, visit the Crypto Channel.
VettaFi LLC ("VettaFi") is the index provider for SATO, for which it receives an index licensing fee. However, SATO is not issued, sponsored, endorsed, or sold by VettaFi, and VettaFi has no obligation or liability in connection with the issuance, administration, marketing, or trading of SATO.