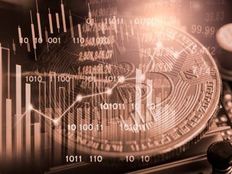 In what could be a positive sign for the fortunes of bitcoin and the cryptocurrency market at large, well-heeled investors remain interested in digital assets. Not only that, but they're asking financial advisors for advice regarding this still young asset class.
Perhaps notable to investors of all stripes considering crypto-correlated exchange traded funds such as the (SATO ) and the (BLKC ).
Both funds are equity-based, but many of the holdings in each are correlated to bitcoin price action. Additionally, the largest holding in both BLKC and SATO is the Grayscale Bitcoin Trust (GBTC), which enhances the crypto-correlated status of these funds.
Predictably, that's a negative when bitcoin prices slump, but they're rebounding to start 2023. Additionally, a recent survey from deVere Group indicates that high-net-worth (HNW) investors are talking with their financial advisors about the role crypto can play in their portfolios. The survey indicates that over the past year, 82% of affluent investors asked advisors about bitcoin and other digital currencies.
"Interestingly, this typically more conservative group were not deterred by the bear market and adverse market conditions.  Instead, they were looking to either start including or increasing their exposure to crypto," notes deVere CEO Nigel Green. "This suggests that these high-net-worth clients are increasingly aware of the inherent characteristics of cryptocurrencies like Bitcoin which has the core values of being digital, global, borderless, decentralized and tamper-proof."
Indeed, bitcoin shed nearly two-thirds of its value last year, stoking fears of a "crypto winter," but even in that challenging environment, HNW clients consistently queried advisors about bitcoin. Acknowledging that direct bitcoin exposure isn't suitable for all investors, ETFs such as BLKC and SATO could play important, long-term roles in providing exposure to digital assets for a broader set of clients.
That's a long-term, but after a stellar showing last month, bitcoin is signaling the crypto winter may be easing and doing so in a material fashion.
"Bitcoin is on track for its best January since 2013 based on hopes that inflation has peaked, monetary policies become more favourable, and the various crypto-sector crises including high-profile bankruptcies are now in the rear-view mirror," concludes deVere's Green. "If HNWs were expressing such huge interest in the 2022 bear market, as market conditions steadily improve, they're going to be amongst the first to capitalise in the forthcoming bull run."
vettafi.com is owned by VettaFi LLC ("VettaFi"). VettaFi is the index provider for BLKC and SATO, for which it receives an index licensing fee. However, BLKC and SATO are not issued, sponsored, endorsed, or sold by VettaFi, and VettaFi has no obligation or liability in connection with the issuance, administration, marketing, or trading of BLKC and SATO.
For more news, information, and analysis, visit the Crypto Channel.