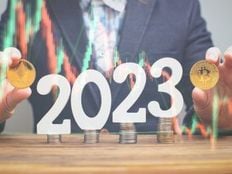 It was difficult to be a bullish cryptocurrency investor in 2022, but a new year is bringing out the staunchest supporters hoping for a turnaround. For instance, Tom Lee, managing partner and the head of research at Fundstrat Global Advisors, is seeing macroeconomic conditions improving for cryptocurrencies.
Inflation was an obvious force applying downward pressure on cryptocurrencies as the Fed was forced to tame higher consumer prices with rate hikes. With the expectation that the Fed will loosen its grip on monetary policy, cryptocurrencies could reverse the trend from last year's downward trajectory.
Lee doesn't see the Fed raising rate hikes to the detriment of economic growth in the new year as most of the capital markets suspect. That could be a major catalyst in helping to boost cryptocurrencies in 2023.
"Reminder, many inflation drivers have literally imploded and down/flat for 2022 after surging mid-year. One doesn't have to look far to see progress," Lee, as reported by the Daily Hodl. "While wages matter, the Fed doesn't want to crush the economy and doesn't necessarily want to crush jobs."
Overall, Lee thinks the loosening of monetary policy will be a positive for the broader stock market, which digital assets like bitcoin have been following last year. If that same trend persists, then strength in the stock market should also spill over into cryptocurrencies despite their status as non-correlated assets — it certainly challenged that non-correlation last year, following stocks and bonds for most of 2022.
"Unless the inflation crisis persists, financial conditions will ease," Lee said further. "This means stocks rise, and stocks rarely post back-to-back annual declines In fact, three of the five best-ever annual gains came after a 'negative' year…"
"And it still puzzles me why the US is the worst-performing global stock market in 2022 outside of China-zone-ish countries," Lee added. "Why is Europe outperforming when Europe is in the teeth of an energy crunch/inflation spiral?"
Other Factors That Can Boost Crypto
While all eyes will continue to be on the Fed this year, there are other factors that can help contribute to further bullishness in crypto. Further adoption can also contribute, especially if uses cases aside from speculation can be made for crypto.
The crypto market needs to reaffirm its methodology as a means to facilitate financial transactions as opposed to merely being a speculative asset. Blockchain technology is already disrupting the traditional financial arena, and more adoption by larger companies can help crypto's cause.
Speaking along the lines of adoption, more countries taking on cryptocurrencies like bitcoin can help boost bullishness. Aside from El Salvador, adoption by an even bigger country could create an impact felt globally, potentially forcing other countries to consider crypto as a fiat currency alternative.
One thing that could also help crypto's case is the need for regulation, especially after last year's debacle with the collapse of cryptocurrency exchange FTX. More regulatory measures to shore up the crypto market could give hesitant investors more confidence in adding crypto to their portfolios, boosting demand even further.
---
Content continues below advertisement