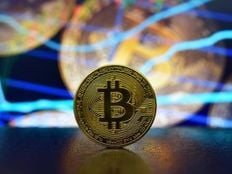 If the first few weeks of 2023 are a harbinger of what's to come for cryptocurrency investors, then they may have reason to be brimming with optimism. The broad crypto market is rallying behind recovering bitcoin prices as the leading crypto pushes above $23,000.
The broad crypto market in 2022 suffered like the rest of the markets, namely stocks and bonds, following both asset classes in a downtrend amid inflation fears. That, of course, challenged cryptocurrencies as a viable asset that was uncorrelated to the traditional financial markets.
Bitcoin recently pushed above $23,000 after falling below $16,000 in 2022 on the expectation that the Fed will slow down the pace of its rate hikes as 2023 unfolds. With that, the correlation with stocks and bonds is occurring once again as both asset classes push higher along with bitcoin's price as well as the broad crypto market.
"Fed tightening seems to be lighter and inflation less of a risk," Charles Hayter, CEO of crypto data site CryptoCompare, said in a CNBC report. "There is hope there will be more caution to rate rises globally."
FTX Collapse Already Priced In?
Last year's collapse of cryptocurrency exchange FTX could have put the proverbial nail in the coffin for cryptocurrency weakness in 2022. The recent collapse of the lending arm of New York-based crypto investment firm Genesis, which sought bankruptcy protection, should have added further weakness, but it appears it may have already been priced in.
Either that, or the broad market bullishness momentum is so strong that investors are simply sloughing off this latest collapse. Either way, the Genesis bankruptcy isn't putting a dent in investor confidence just yet.
"The Genesis debacle has been playing out for a while and is likely priced in already. FTX, on the other hand, has already had a significant impact on many investors, on market psychology and on the prices of several toxic assets," said Mati Greenspan, founder and CEO of crypto investment advisory firm Quantum Economics, in a CNBC report.
"It should be noted however that the price on bitcoin itself is quite limited since FTX didn't have any on their balance sheets," Greenspan added.
That said, bitcoin and the other cryptocurrencies are still subject to volatile movements in the market, so new investors looking at digital assets in 2023 should take caution still. Earnings forthcoming in big tech could confirm crypto's movements with the broader stock market and see heavy price fluctuations.
"Bitcoin could test its August high and be supported at the $20k~$21k level, but with its RSI's divergence and a couple of big tech earnings ahead this week, it could get quite unstable," said Yuya Hasegawa, crypto market analyst at Japanese bitcoin exchange Bitbank.
For more news, information, and analysis, visit the Crypto Channel.
---
Content continues below advertisement