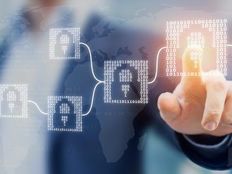 Digital Asset announced on Tuesday that, in partnership with a slew of well-known companies, it's launching the Canton Network. This could be a long-term nod to the blockchain investment thesis and a near-term affirmation of the technology itself.
The Canton Network is the financial services industry's first privacy-enabled blockchain network for institutional assets. It already has participation from 30 publicly traded and closely held companies. Some of those companies are members of the (BLKC ).
Firms participating in the Canton Network include 3Homes, ASX, BNP Paribas, Broadridge, Capgemini, Cboe Global Markets, Cumberland, Deloitte, Deutsche Börse Group, Digital Asset, The Digital Dollar Project, DRW, Eleox, EquiLend, FinClear, Gambyl, Goldman Sachs, IntellectEU, Liberty City Ventures, Microsoft, Moody's, Paxos, Right Pedal LendOS, S&P Global, SBI Digital Asset Holdings, Umbrage, Versana, VERT Capital, Xpansiv, and Zinnia, according to a statement released by Digital Asset.
BLKC, which follows the Alerian Galaxy Global Blockchain Equity, Trusts and ETPs Index, holds shares of Microsoft and Goldman Sachs. Both of those firms are members of the Dow Jones Industrial Average.
Canton Network Participants Could Gain Advantages
Technology, including blockchain, is a cornerstone of evolution in the financial services. It's also a prime avenue for companies to wrest market share from rivals. Therefore, the Canton Network could represent one avenue with which to accomplish that objective.
"With the Canton Network, a digital bond and a digital payment can be composed across two separate applications into a single atomic transaction, guaranteeing simultaneous exchange without operational risk," said Digital Asset in the statement. "Likewise, a digital asset could be used in a collateralized financial transaction via connection to a repo or leveraged loan application."
Specific to BLKC, the Invesco exchange traded fund allocates 21.41% of its weight to the financial services sector. Also, several of its holdings from that group beyond Goldman Sachs could make for practical future Canton Network participants.
The Canton Network ameliorates some of the problems associated with blockchain technology, including privacy and scalability concerns. That could also make the offering appealing to more BLKC components and other firms.
For more news, information, and analysis, visit the Crypto Channel.
VettaFi LLC ("VettaFi") is the index provider for BLKC, for which it receives an index licensing fee. However, BLKC is not issued, sponsored, endorsed or sold by VettaFi, and VettaFi has no obligation or liability in connection with the issuance, administration, marketing or trading of BLKC.
---
Content continues below advertisement