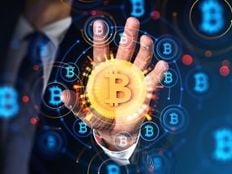 Some cryptocurrency market observers and bitcoin bulls speculate that the evolution and potential proliferation of central bank digital currencies (CBDCs) could damage bitcoin and other digital currencies. Others don't concur.
In fact, some experts believe that a digital dollar, which is a possibility in the U.S., could actually improve the case for bitcoin. Recently, Nellie Liang, the U.S. Treasury Department's undersecretary for domestic finance, said that a digital dollar is under consideration in the U.S.
There are reasons for that and they don't have to be destructive to bitcoin, the largest cryptocurrency by market value. Those include helping the dollar retain its status as the world's reserve currency and improving efficiencies in cross-border transactions.
As noted by deVere Group CEO Nigel Green, there's clear momentum for CBDCs as central banks in China and across the world are considering such moves. However, Green, who's long been enthusiastic about bitcoin, sees the king of crypto benefiting from the evolution of CBDCs.
"Whilst CBDCs might have many advantages, including convenience, efficiency, and transparency, what they do not have is privacy," he noted. "In effect, the digital dollar is Big Brother-style surveillance technology."
He adds that CBDCs could allow central banks to track, in real-time, citizens' spending patterns, paving the way for Orwellian-style collection of highly sensitive personal data. As a result, bitcoin and related assets could become increasingly attractive options for some folks.
"This could include information about individuals' spending habits, income, and other financial activities. This has raised concerns about the potential for government abuse of this information, such as the use of financial data to monitor and control individuals' behavior," according to Green.
Bitcoin and other established cryptocurrencies offer users all the benefits of CBDCs, including being digital and efficient, without privacy concerns. Additionally, the race to develop CBDCs can be seen as confirmation the future of money is indeed digital, but many consumers are likely to prize privacy over utility. That could open the door for broader bitcoin adoption.
"Any digital version of the dollar must uphold our American values of privacy, individual sovereignty, and free market competitiveness," concluded Green. "Anything less opens the door to the development of a dangerous surveillance tool. Whilst there are pros and cons to all, for many people programmable, trackable CBDCs will be unattractive due to the privacy and government monitoring concerns."
For more news, information, and analysis, visit the Crypto Channel.