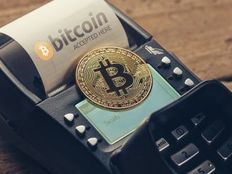 Bitcoin shed nearly two-thirds of its value last year en route to its worst annual performance since 2018, but some crypto experts and market observers remain bullish on the digital coin's future in terms of reducing payments friction.
That was one of bitcoin's original use cases when it debuted more than 13 years ago, and one that's largely been lost in the shuffle amid volatility and bitcoin being framed as an investable asset class. Should market participants refocus on the bitcoin payments case, exchange traded funds such as the )+ could benefit.
DAPP, which follows the MVIS Global Digital Assets Equity Index, is certainly crypto-correlated, but its 20 holdings aren't necessarily bitcoin-dependent. Rather, these firms have exposure to various facets of the digital assets economies, including payments.
"While many have written off the original vision for bitcoin as digital cash – in large part because of the volatility – some investors and developers are still bullish on its potential to improve financial transactions," .
Of course, bitcoin's status as digital cash would be enhanced by ebbing volatility, but the fact that a fair amount of market observers still see that potential following a brutal 2022, including the demise of FTX, is arguably encouraging.
Block's (NYSE:SQ) Mike Brock, who leads the company's TBD unit, told CNBC that the business isn't focusing on being an exchange, but rather on international remittance efforts, which could be a better long-term value proposition for investors. Block is DAPP's largest holding as of the end of 2022. For that company and DAPP investors, the good news is currency prices — digital or fiat — have no bearing on a remittance business.
"There's a huge premium that bitcoin enjoys today that is largely from speculation," Brock told CNBC. "I do think long-term value of bitcoin will go up because of increasing utility on the network, because it's being used increasingly to power things like international remittance [and] to secure other types of transactions like the digital identity work that we're doing."
Enhancements to bitcoin's Lightning Network serve as another example of longer-ranging efforts to bolster the asset's status as improved form of payment. Additionally, bitcoin could lift some DAPP components, namely Block, because it's an important asset to those that are unbanked or lack access to traditional financial services.
"Bitcoin has also been a lifeline for other groups marginalized or underserved by financial institions such as , Lebanese and are unable to access their bank accounts, and Afghans ," concluded CNBC.
For more news, information, and strategy, visit the .