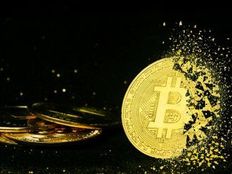 Bitcoin's recent correlation to the traditional financial markets is also extending into the data that typically moves stocks and bonds. As such, key metrics that portend to dissipating inflation could feed into higher bitcoin prices.
For example, the consumer price index (CPI) has obviously been a major mover of the capital markets, and likewise, it's been affecting bitcoin's prices. The latest CPI reading could be a key catalyst for bitcoin, especially if consumer prices start to dissipate, potentially signaling that the U.S. Federal Reserve could back off on raising interest rates.
"Tuesday's CPI will yet again be 'the most important CPI release ever,' this time because the market has set it up to be with its epic 2-month short squeeze rally," noted trading firm QCP Capital via a . "At the FOMC, Fed members will release their updated projections of inflation and interest rates. Markets will focus on where they forecast inflation next year, as well as where they see rates in 2023 and 2024. Both these events are the last remaining hurdles for the rally into year-end."
A rally is exactly what bullish bitcoin investors need after the leading cryptocurrency has been relatively staid ever since dropping from its $21,000 price mark in the first week of November due to the FTX exchange fallout. Since then, bitcoin's price has recovered but is caught in sideways action, so a catalyst like lower inflation could help it push higher.
Bet on Higher Bitcoin Prices Via Futures
If bitcoin can get out of its current sideways action, then there are options to consider other than allocating investment capital to the actual cryptocurrency itself. For example, investors can bet on bitcoin futures via an exchange traded fund (ETF) on a regulated stock market exchange, such as the .
BITO provides the gateway for investors who want crypto exposure to diversify their assets, but at the same time, want to remain within a safe, regulated market. While the crypto market is growing and the government is looking into improving regulatory measures, BITO can give investors the regulated crypto exposure they desire.
Additionally, the fund is actively managed, giving investors the peace of mind of knowing that their investments are in the hands of seasoned portfolio managers. Bitcoin can be a volatile asset, and active management can make portfolio changes on the fly when market conditions warrant an adjustment.
BITO is an alternative to getting decentralized exposure without direct access to the asset. Given the current economic uncertainty and the recent fallout from the FTX collapse, now could be a good time to do so.
For more news, information, and analysis, visit the .
---
Content continues below advertisement