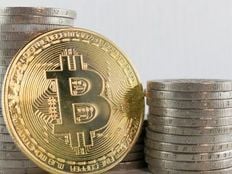 Bitcoin's price saw a lot of flash rallies last year that only led to more downward price pressure. The new rally to start the new year, however, could actually have legs, as it responds positively to macroeconomic data.
Up over 25% to start the new year, bitcoin's recent price rally is following strength in traditional financial assets like stocks and bonds. This continues last year's trend when bitcoin mirrored stocks and bonds on the way down amid rising inflation, but while the trend has reversed, bitcoin has followed.
2022 ended with inflation showing a modest retreat, giving risk assets a boost as the expectation is that the U.S. Federal Reserve will start scaling back on interest rate hikes. That, in effect, is bringing the dollar down and potentially bringing more capital to riskier assets like bitcoin.
"We are seeing the dollar put in a top, inflation easing, interest rate hikes slowing down – all pointing to markets getting more risk-on over the next few months," said Vijay Ayyar, vice president of corporate development and international at crypto exchange Luno, in a CNBC report.
The ICE US Dollar Index and bitcoin's latest price movements show restored confidence in risk assets again. The index is down 2% while bitcoin has risen close to 20% within the past month, highlighting the early strength in the new year.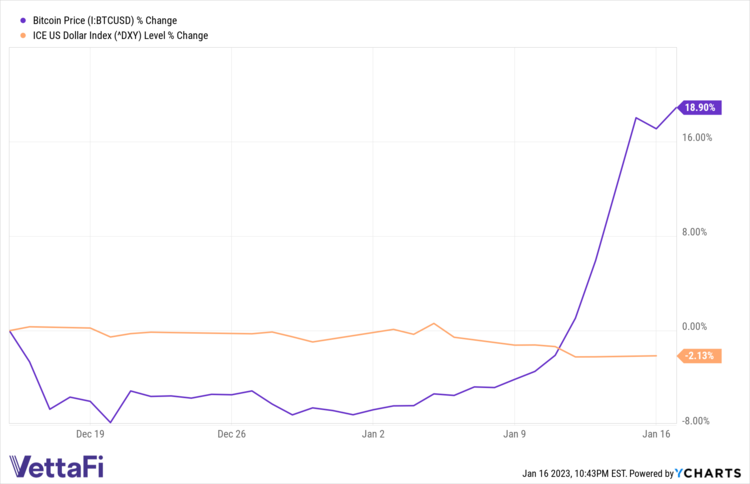 Investors Leaving FTX Collapse in the Past
Last year's collapse of cryptocurrency exchange FTX certainly dashed any hopes of a holiday rally as 2022 was winding down. The collapse shook investors' confidence and kept prospective market entrants at bay who were looking at potentially investing in bitcoin at the current low price.
Nonetheless, the early 2023 rally could be a sign that investors are ready to put the FTX collapse behind them. With dissipating inflation and less interest rate hikes, that could continue to fuel a risk-on rally that could feed into higher bitcoin prices.
"Bitcoin looks to have recoupled with macro data as investors shrug off the FTX collapse," James Butterfill, head of research at digital asset management firm CoinShares, told CNBC.
"The most important macro data investors are focussing on is the weak services PMI and the trending down of employment and wage data," Butterfill added. "This coupled with downwards trend in inflation has led to improving confidence, while it comes at a time when valuations for Bitcoin … are close to all time lows. The prospect of looser monetary policy off the back of weaker macro data and low valuations is what has led this rally."
For more news, information, and analysis, visit the Crypto Channel.
---
Content continues below advertisement