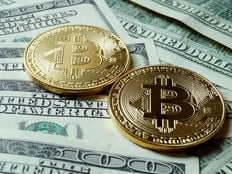 With Bitcoin rebounding 50% this year, the timing was auspicious for global investment company BlackRock to file for a Bitcoin exchange traded fund (ETF). The fund would focus on the spot price of Bitcoin and its approval could open the doors for more investors to give digital assets a closer look.
"BlackRock's filing for a spot Bitcoin ETF signals a turning point in the industry, as a prominent player in the traditional financial space acknowledges the potential of Bitcoin," Bitcoin Magazine said. "If approved, the Bitcoin ETF would open doors to a new wave of adoption and provide investors with an unprecedented opportunity to participate in the Bitcoin market through a regulated and accessible investment vehicle."
The obvious advantage of a Bitcoin ETF is its regulatory framework, allowing investors to invest in the price of the leading cryptocurrency without investing in the digital currency itself. Regulatory pressure has been raining down on the cryptocurrency market, especially with the collapse of exchanges like FTX in last year's bear market.
The crypto markets are largely unregulated, but the Securities Exchange Commission (SEC) and the U.S. Commodity Futures Trading Commission (CFTC) have been ramping up their efforts to gain regulatory oversight. Investors can use a Bitcoin ETF to trade or invest in price movements via a regulated exchange.
The BlackRock fund would join other Bitcoin ETFs on the market, such as the (BITO ), the (BTF ), the (XBTF ), and the (MAXI B-).
Bitcoin Pulls Back Amid Hawkish Fed
Investors digested a more hawkish tone from the U.S. Federal Reserve following its recent rate pause. While the major stock market indexes initially responded negatively to the news, the capital markets shrugged off the opening jitters and bullishness resumed.
However, Bitcoin took the opposite direction as it continued to retreat to under $25,000. Bitcoin touched above $30,000 in mid-April before falling to its current level, but still following the overall bullishness in stocks and bonds.
The leading cryptocurrency has been correlating with traditional assets for the past year, but the recent Fed news saw a deviation from that trend. However, the pullback isn't fazing staunch Bitcoin bulls like MicroStrategy's Michael Saylor who sees the recent regulatory pressure from the likes of the SEC and CFTC as a catalyst for higher prices.
"Regulatory clarity is going to drive Bitcoin adoption by eliminating the confusion and anxiety that has been holding back institutional investors," said Saylor.
For more news, information, and analysis, visit the Crypto Channel.
---
Content continues below advertisement