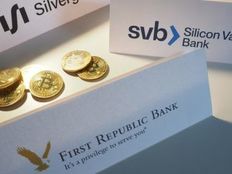 Amid the collapse of Silvergate Capital and Silicon Valley Bank and the ensuing contagion effect, there's sudden stress on the financial services sector. Things are worse for some crypto-correlated companies, underscoring the need for diversity when approaching this asset class.
Exchange traded funds can help with that objective. Take the case of the (BLKC ). To be sure, these are trying times for crypto assets of all stripes, but BLKC's broad approach to the asset class could be an attractive buy-the-dip catalyst and potentially potent for long-term investors.
The ETF isn't entirely immune from the ripple effects of the aforementioned bank collapses. As of March 9, BLKC had a 0.28% allocation to Silvergate and a 1.91% weight to Signature Bank of New York (SBNY) – a crypto-friendly bank that regulators in that state subsequently shut down.
"Investors have worried that the collapse of Signature Bank, whose assets were seized Sunday evening by regulators, was inevitable following the impending liquidation of Silvergate Bank and given the increasing regulatory hostility toward crypto companies," reported Tanya Macheel for CNBC.
While the near-term climate for crypto banks and related firms could remain trying, it's important for investors mulling BLKC to remember that blockchain and crypto are two distinct concepts and while there are intersections between the two, blockchain's utility extends well beyond digital currencies.
As such a significant portion of BLKC's nearly 48% weight to the technology sector isn't directed to crypto-dedicated companies. In fact, many of the ETF's tech components are arguably boring relative to what's a sector often associated with glamour. Cisco Systems (NASDAQ: CSCO), Texas Instruments (NASDAQ: TXN), and International Business Machines (NYSE: IBM), all of which are BLKC member firms, don't scream "excitement" to tech investors but those holdings can mitigate some of the volatility associated with assets such as BLKC.
Likewise, while BLKC's 13.35% weight to the financial services sector may appear to be a drag on the ETF over the near term, it cannot be ignored that the ETF's crypto bank exposure is small. Conversely, a significant portion of the ETF's bank holdings are higher quality fare, such as JPMorgan Chase & Co. (NYSE: JPM) and Goldman Sachs (NYSE: GS).
While these are potentially attractive traits, it's worth pointing out that should the recent spate of negative crypto-related headlines dissipate, BLKC is more than adequately positioned to capitalize on a bitcoin-fueled rebound by digital assets.
For more news, information, and analysis, visit the Crypto Channel.
vettafi.com is owned by VettaFi LLC ("VettaFi"). VettaFi is the index provider for BLKC, for which it receives an index licensing fee. However, BLKC is/are not issued, sponsored, endorsed, or sold by VettaFi, and VettaFi has no obligation or liability in connection with the issuance, administration, marketing, or trading of BLKC.