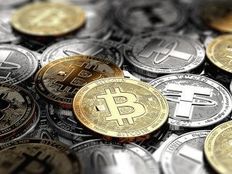 Recent turmoil in the traditional banking system could spell opportunities for cryptocurrencies. As an alternative way to facilitate transactions, cryptocurrencies could see strength as confidence in banks start to wane.
"This is the perfect setting for bitcoin, ethereum and the rest of the decentralized-financial system to stand out as an alternative system, delinked from the traditional centralized banking system," Bernstein analysts Gautam Chhugani and Manas Agrawal wrote, per a Coindesk report.
Along with the rescue of U.S. regional bank First Republic, Europe's Credit Suisse has been grabbing the financial news as of late with its own recent rescue, thanks to help from global investment bank UBS. It's a perfect storm for bullish crypto investors who needed a catalyst to bolster prices after last year's bearish market.
Bitcoin Pushes Higher Amid Turmoil
While the banking sector looks to right the ship, bitcoin and other cryptocurrencies have been pushing higher. Bitcoin rushed past the $28,000 mark, and ethereum is up almost 6% within the last five days, with analysts guessing that the recent banking turmoil could be spurring more investors to alternative currency methods like crypto.
One prime focus for all markets, traditional or digital, will still be interest rates. As the dust clears from the banking industry, the central bank's interest rate policy will remain in focus.
"Bitcoin continues to trade like a leading risk-on asset, like it has for the past two years," said James Lavish, managing partner at the Bitcoin Opportunity Fund. "The rescue of Credit Suisse has put out a large credit fire … this emboldens bitcoin buyers who are now anticipating the Fed slowing the increase in rates and signaling a coming pause this week."
Bitcoin's recent movement with traditional markets over the past year had investors questioning its status as an uncorrelated asset. However, the recent developments in the banking industry may have re-established this status, as the need for diversification is imperative not just because of the banking fallout, but also in the current macroeconomic environment.
"If one looks at the history of bitcoin and why it was created in the first place, it was precisely for events like this where the current system shows signs of weakness and hence owning an uncorrelated asset helps," Vijay Ayyar, vice president of corporate development and international at crypto exchange Luno, told CNBC. "Over the years, this argument of bitcoin being an uncorrelated asset class has been debated quite a bit, but we are now potentially seeing that viewpoint being vindicated."
For more news, information, and analysis, visit the Crypto Channel.
---
Content continues below advertisement