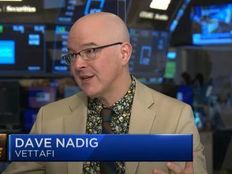 VettaFi's financial futurist, Dave Nadig, joined "ETF Edge" and host Bob Pisani Monday to talk crypto — particularly, the ongoing battle between Grayscale Investments and the SEC. The case centers around the conversion of its Grayscale Bitcoin Trust (GBTC) into an ETF, with the crypto industry still lacking for a spot product with direct exposure to bitcoin or any other digital currency.
See more: Setting Odds on the GBTC Lawsuit
Answering a question from Pisani regarding Grayscale's chances of a win in its case against the regulator, Nadig explained that Grayscale actually has a "more than 50/50" chance to win — but that may not give Grayscale everything the firm wants outright.
"I think the chances are more than 50/50 that they will win this lawsuit," Nadig said. "However, I don't think that means that all of a sudden we get a bitcoin ETF. I think there's actually a higher likelihood it means that they shut down some of the futures-based products."
"There's no way to force a regulator to approve a product — you can't actually mandate a regulator to take an action," Nadig added. "I suspect that even if Grayscale wins, [SEC Chair Gary] Gensler is going to back even further away from crypto and not necessarily approve a spot bitcoin ETF, but put some constraints around the futures-based products while we wait for maybe someday comprehensive crypto regulation and legislation in this country."
Both Pisani and Nadig agreed that, belying Gensler's unwillingness to make a ruling on spot bitcoin and several other pressing crypto questions, the SEC commissioner has actually done "regulation by enforcement" by suing certain crypto firms for certain acts "very, very capriciously," according to Nadig.
The SEC is regulating certain industries, like crypto, more than others — the regulator isn't going after swords in the online video game World of Warcraft, for example, but one could argue they fail the same tests for which Gensler is arguing.
Underlining the framework with which SEC Commissioner Hester Peirce approaches the regulator's duties as focused on "capital raising," Nadig explained that the so-called "Howey Test" to assess whether a transaction qualifies as a security isn't really applicable for crypto. Instead, legislation is needed — but the chances of the broad rulemaking needed from Congress arriving sooner than 2025 are pretty slim.
A stablecoin rule could come sooner and open the gates for clear legislation on crypto overall, but the outlook for crypto overall depends on the upcoming election cycle.
"A good set of legislation is on the table to basically bring [stablecoins] under the umbrella, actually have them being regulated by the Fed, because effectively they're going to be money market instruments. I'm a fan of that. I'm hoping we see some action and actually get some votes on it," Nadig said.
"I think we'll give stablecoins at least a shot at it this year. That might break it open to be a post-campaign issue. So 2025, maybe?" he added as to the timing of a broader crypto bill.
For more news, information, and analysis, visit the Crypto Channel.