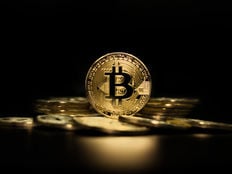 In terms of sheer volume, Binance is head and shoulders above other cryptocurrency exchanges, but when you're on top, you also become a target. Regulatory pressure is coming down heavy on Binance following last year's FTX collapse.
Speaking of the recent FTX collapse, Binance captured a sizeable market share, allowing it to have the capability to bail out FTX, according to a New York Times report. However, Binance has been put under the proverbial microscope by regulatory agencies.
"But Binance has increasingly found itself under tighter scrutiny by U.S. regulators. And now, according to a new report, they may seek to examine new evidence that the exchange's U.S. and global arms were more interconnected than previously described," the report said. "With negative headlines piling up, Binance Coin, the exchange's digital token, has fallen nearly 7 percent in the past week."
Despite these latest developments, this same regulatory pressure that helped to upend the cryptocurrency markets last year during the FTX debacle isn't affecting the major coins as of yet. Bitcoin, for example, has been relatively stable — overall, the leading cryptocurrency is up over 30% for the year after falling over 60% last year.
Bitcoin Outperforming Major Indexes and Gold
In fact, bitcoin's performance is outlasting those of other major indexes and assets, including the Nasdaq, S&P 500, and Dow Jones Industrial Average. Bitcoin is also ousting the performance of gold as rising interest rates remain a concern but don't seem to be halting the market rally that started late last year.
"As of March 6, Bitcoin's year-to-date return stood at 32.23%, far exceeding the performance of the major stock indices and gold," a USA Today report noted. "The NASDAQ Composite gained 12.41%, the S&P 500 rose 5.86%, and the Dow Jones edged up by 0.12% this year. Meanwhile, gold had a YTD return of only 1.17%, greatly underperforming Bitcoin."
The ebb and flow of bitcoin's prices have been following the aforementioned traditional assets, which started last year as downward selling pressure gripped the capital markets amid rising inflation and interest rates. If that same correlation sticks, Bitcoin will likely still follow the movement of traditional assets, meaning that monetary policy decisions will still be a major mover.
According to a Reuters report, bets on more Fed rate hikes are mounting as the central bank acknowledges that inflation could be more stubborn than originally anticipated. According to the report, the "probability that the Fed may increase rates to as high as 6% in September, which is when Fed funds futures traders see rates peaking, stood at over 13% on Monday, up from about 8% a week earlier, CME Group data showed."
For more news, information, and analysis, visit the Crypto Channel.
---
Content continues below advertisement