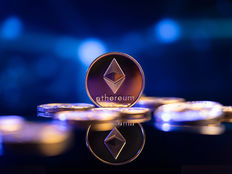 Ethereum, the second largest cryptocurrency by market capitalization, is seeing its price jump in recent days. A network upgrade is due for Ethereum, which has investors bullish as cryptocurrencies continue to recover from last year's tumult. The upgrade, dubbed as "Shapella," is scheduled for April 12. The upgrade is quite notable given that its Ethereum's transition to a proof-of-stake (PoS) network from its current proof-of-work (PoW) network.
The move to PoS will allow for lesser energy consumption by almost 100%, according to a Markets Insider report. This will also allow for faster network transactions, which should instill more investor confidence in the crypto markets by retail and institutional investors.
Like Bitcoin, Ethereum has also been gaining so far in 2023. Its price is up 55% year-to-date and in the long term, specifically a five-year time frame, Ethereum is up over 270%.
"While analysts debate the short-term effects of this upgrade, it's no doubt bullish for Ethereum going forward as it massively reduces its energy consumption and provides more favorable ESG optics when compared to bitcoin," Nathan Thompson, lead tech writer at crypto exchange Bybit, told Markets Insider. "Furthermore, the smooth upgrades and consistent delivery of Ethereum's roadmap have boosted investor confidence and piqued the interest of institutional investors."
Cryptocurrencies Unaffected by Economy
Despite the current macroeconomic backdrop, cryptocurrencies are seemingly unfazed. Last year, digital currencies fell prey to the downward pressure of rising interest rates and inflation, but while those forces are still persistent in 2023, cryptocurrencies have been pushing higher.
Bitcoin is up almost 70% for the year, gaining steam lately thanks to a shaky banking sector fraught with the  rescues of First Republic Bank and Credit Suisse. This may have spurred a flight to safety in cryptocurrencies, fortifying its position as an alternative to traditional banking.
"With the US banking system in peril, we've seen a rise both in bitcoin's price and bitcoin dominance vis-à-vis the rest of the crypto market," Ben Caselin, Vice President at crypto exchange MaskEX, told Markets Insider. "As has often been the case, historically, following a serious and extended bitcoin rally, a return of investor confidence and enthusiasm can find expression in a so-called 'altcoin season.'"
For more news, information, and analysis, visit the Crypto Channel.
---
Content continues below advertisement