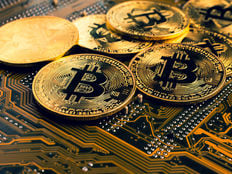 As has been widely reported, big news in the cryptocurrency realm arrived Tuesday when a US Appeals Court ruled that the Securities and Exchange Commission (SEC) must consider Grayscale's efforts to convert the GBTC bitcoin index fund into an exchange traded fund.
That doesn't guarantee spot bitcoin ETFs will come to life. Still, the ruling suggested the SEC's reasoning for rejecting such funds is faulty. While the future of spot bitcoin ETFs in the U.S. still hangs in the balance, it's clear Tuesday's ruling was a positive for bitcoin prices and other crypto-related assets, such as the Invesco Alerian Galaxy Blockchain Users and Decentralized Commerce ETF (BLKC ).
BLKC makes for an obvious beneficiary of the Grayscale news. The Invesco exchange traded fund allocates 15.78% of its weight to the aforementioned GBTC. Alone, that fact underscores BLKC's potentially positive correlations to the SEC eventually approving spot bitcoin ETFs — something some experts believe is now a foregone conclusion.
BLKC Could Benefit from 'Landmark" Ruling
There's no shortage of praise for the appellate court's ruling in the Grayscale case. Some experts are going so far as to describe the case as monumental.
"This is a landmark legal win for crypto against the US regulator," said deVere Group CEO Nigel Green in a new report. "The court's decision destroys the SEC's central argument for rejecting every spot Bitcoin ETF over the last few years. This win paves the way for bitcoin ETFs."
Should the SEC ultimately give the green light to these ETFs, BLKC stands to benefit. This is not simply because of its large weight to GBTC. The ETF also holds shares of multiple crypto miners — an asset class highly levered to the underlying assets' price movements.
---
Content continues below advertisement
Further Spot Bitcoin ETFs
It's easy to understand why Tuesday's ruling could be a boon for BLKC. A slew of fund issuers have filed applications for spot bitcoin ETFs. If these funds are approved, the market could feel immediate, substantial demand for the largest digital currency. There are other avenues for BLKC upside as well.
"First, if Bitcoin ETFs are approved, it would open up the cryptocurrency market to a broader range of investors who might have been hesitant to directly invest in digital assets. This influx of new capital from institutional and retail investors could drive up demand for Bitcoin, leading to an increase in its price," concludes Green. "Second, ETFs typically involve the purchase of the underlying asset by the fund managers. If Bitcoin ETFs follow this structure, it could create a substantial demand for actual Bitcoins to back the ETF shares. This increased demand, coupled with the limited supply of Bitcoin (capped at 21 million coins), could lead to a supply-demand imbalance, resulting in a price surge."
He believes the first US-listed spot bitcoin ETFs could come to market in the first quarter of 2024, if not sooner.
For more news, information, and analysis, visit the Crypto Channel.