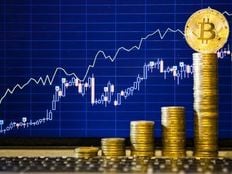 Smaller bitcoin devotees are colloquially known as HODLrs, as in "holding on for dear life." Indeed, the largest digital currency and many of its peers can be volatile assets that try investors' patience and ability to hold over lengthy periods.
Still, some market observers believe bitcoin offers massive upside from current prices of just below $24,000. In fact, some believe the cryptocurrency could appreciate dozens of times over during the next decade, indicating that there could be significant rewards for market participants with the temerity to hold even a small amount of bitcoin for an extend period.
In its new 2023 Big Ideas report, ARK Investment Management estimated that bitcoin could run to $1 million in the next decade — easily one of the most bullish forecasts around.
"We believe Bitcoin's long-term opportunity is strengthening. Despite a turbulent year, Bitcoin has not skipped a beat. Its network fundamentals have strengthened and its holder base has become more long-term focused," according to ARK. "Contagion caused by centralized counterparties has elevated Bitcoin's value propositions: decentralization, auditability, and transparency."
ARK's bitcoin forecast emerges after the digital currency notched an impressive January, erasing some of its 2022 declines. Speaking of bitcoin's 2022 bear market, as ARK noted, it was the fifth-largest in terms of value shed and second-longest from a time perspective.
As 2022 drew to a close, some crypto market observers noted that deep, extended bitcoin declines historically gave way to the reverse scenario: significant rallies. It remains to be seen if that history repeats this year, but it's a fact that bitcoin needs to almost triple to reclaim the all-time of around $69,000.
Owing to bitcoin's aforementioned reputation for volatility, some investors may be more apt to take quick gains and not wait around for prices to double, let alone triple. However, historical data indicate that bitcoin has previously displayed merit as a long-term holding.
"Bitcoin's volatility has obscured its long-term returns. Despite five drawdowns greater than 75% since its inception in 2009, bitcoin has delivered positive annualized returns over 3-, 4-, and 5-year time horizons," added ARK.
Adding to the bitcoin case are data points suggesting, as ARK pointed out, that many investors weren't spooked by the collapse of crypto broker FTX and the ensuing contagion effect. Said another way, some investors realized that FTX likely perpetrated fraud and that wasn't necessarily direct commentary on crypto fundamentals.
"Despite extreme market fear fueled by the collapse of several major crypto entities, on-chain data suggest that bitcoin holders remained focused on long-term fundamentals," concluded ARK.
For more news, information, and analysis, visit the Crypto Channel.