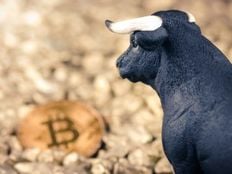 In 2022, bitcoin notched its worst annual performance since 2018. Making matters worse, the collapse of crypto broker FTX, though not a direct commentary on bitcoin, chased plenty of investors out of the crypto arena.
However, some big-name financial services still see promise in bitcoin and the digital assets universe at large. That group includes brokerage and fund giant Fidelity. Last year, it began offering a bitcoin service in 401(k) plans and bolstered its capabilities in ethereum trading. That's the second-largest digital asset behind bitcoin and is also coming off its worst yearly showing since 2018.
The Boston-based company also announced plans to add 500 crypto-related jobs by the end of the first quarter of 2023. In theory, the timing of these moves is bad simply because of bitcoin's 2022 decline and the collapse of FTX, among other factors, but Fidelity is playing the long game, and that could be constructive for the broader crypto universe.
"For a company of Fidelity's size, crypto isn't likely to add much revenue. But Fidelity tends to press into new areas gradually and persistently. And it could benefit from the washout in the industry—it's one of the few reputable firms that investors might trust to hold and trade crypto," .
A Fidelity spokesperson told Barron's that a "meaningful" number of its current clients already have exposure, indicating that the brokerage firm is in tune with client demand. While it's not clear whether those clients are large or small crypto investors, bitcoin bulls that incrementally nibble at the largest cryptocurrency, also known as "shrimp," are usually devoted buyers and long-term holders. Additionally, Fidelity's crypto efforts could be rewarded over time.
"More than 60% of investors believe digital assets have a place in their portfolios, and over 80% show interest in institutional investment products that hold digital assets," .
Fidelity is showing crypto commitment in other ways. For example, the firm added to its exchange traded funds lineup last year with the launches of the and the (FMET ), both of which are equity-based ETFs with ties to the crypto space. FMET, which tracks the , is relevant in this conversation because financial transactions in the metaverse are crypto-intensive.
For more news, information, and strategy, visit the .