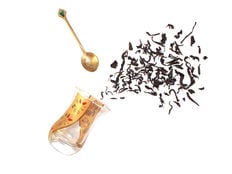 Gold and bitcoin are often viewed as two competing assets. In fact, some market observers view the cryptocurrency's "digital gold" moniker as a slight to bullion.
Whether that's accurate or not is up for debate. The fact remains that market participants love comparing the precious metal and the digital currency. There are merits in those comparisons and there could be implications for crypto-adjacent exchange traded funds such as the (BLKC ) and the (SATO ).
Both ETFs are full of stocks that are crypto-correlated. This could be a beneficial trait if bitcoin rebounds from its recent lethargy. That scenario is possible, particularly if the largest cryptocurrency begins taking some clues from gold.
Gold/Bitcoin Relationship Worth Monitoring
Following last year's disappointing performance, gold is soaring this year. Should it continue to the upside, it could provide some tailwinds for bitcoin.
"Even taking that preference into account, gold's current price, at just under $2,000 an ounce, implies a price for Bitcoin of $45,000, significantly higher than its current level of about $26,200, assuming investors see them as interchangeable. Of course, Bitcoin has only been used as a store of value for 14 years, while gold has been used for thousands, making that premise a bit precarious," reported Joe Light for Barron's.
A move to $45,000 would undoubtedly stoke bullish tidings among backers while potentially driving some upside for SATO and BLKC.
For HODLRs, there's another factor to consider. Bitcoin is likely to undergo another halving in April or May 2024. Halvings typically make the mining process costlier and more difficult. With plenty of miners attempting to find firmer financial footing following the 2022 bloodbath, it's possible some will resist expanding operations following the halving. That could keep a lid on bitcoin supply, possibly boosting prices in the process.
"All else being equal, the halving would double the cost of mining one Bitcoin to about $40,000. In the past, the production cost has acted as a lower bound for token prices," Barron's reported, citing JPMorgan cryptocurrency analysts.
Over the near-term, bitcoin could face more regulatory headwinds in the U.S. and if bank failures flare up anew, that could weigh on appetite for digital currencies. Should those situations remain calm, bitcoin could bounce with some assistance from rival gold.
For more news, information, and analysis, visit the Crypto Channel.
---
Content continues below advertisement