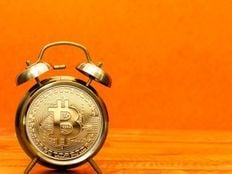 Through Tuesday, April 25, bitcoin shed 6.55% over the prior week retreating from $30,000. The largest digital currency was able to reclaim $28,000 on Tuesday, stoking speculation that a more substantive near-term rally could be in the offing.
Some exchange traded funds, including the (SATO ), are highly correlated to bitcoin prices, implying that they're good candidates to consider when crypto prices rebound. SATO is home to a bevy of crypto miners — a group of stocks with intimate ties to cryptocurrency price fluctuations.
The ETF's composition is relevant on both fundamental and technical levels. Regarding bitcoin's technicals, the recent move above and subsequent retreat below $30,000 suggests that crypto owners and SATO investors should monitor that level.
"The $30,000 price clearly indicates resistance. Support or resistance for bitcoin and ether tends to concentrate around large whole numbers because traders usually place buy and sell orders at points that end in 0 or 5," reported Glenn Williams for CoinDesk.
Potentially furthering the near-term case for SATO and bitcoin itself are data pointing to a pair of important factors. First, bearish traders took profits in bitcoin on the way down, liquidating significant short positions. Second, positioning in bitcoin futures indicates that more traders are bullish than bearish.
Should that outlook prove accurate, SATO could benefit because the higher bitcoin prices are, the more profitable mining is for some of the ETF's holdings.
For investors approaching SATO with a long-term perspective, an obvious scenario that bears monitoring is bitcoin miners' commitment to reducing carbon intensity and embracing renewable energy. Making good on those commitments can serve the dual purpose of boosting profitability and keeping environmental activists and regulators satisfied.
There are avenues for accomplishing those goals, including more incentives and credits for miners to embrace clean energy as well as proposals to tokenize "clean bitcoin."
"Another system that is using financial incentives is offered by Clean Incentive and Sustainable Bitcoin Protocol (SBP). These companies are trying to promote investments in 'clean' bitcoin by creating new, blockchain-based assets that miners can trade to capitalize on their use of renewables. Investors looking to verifiably own environmentally conscious bitcoin are the right fit for these assets," reported Eliza Gkritsi for CoinDesk.
Other still-young ideas for reducing bitcoin mining's energy footprint include demand response and reusing heat.
"Demand response is when a miner, or other energy consumer, shuts down its operations at times of peak demand, such that the grid can meet the consumption needs. Often miners get paid for this. Heat reuse refers to the practice of using excess heat from a mining operation for another activity, such as greenhouse farming," according to CoinDesk.
For more news, information, and analysis, visit the Crypto Channel.
VettaFi LLC ("VettaFi") is the index provider for SATO, for which it receives an index licensing fee. However, SATO is not issued, sponsored, endorsed or sold by VettaFi, and VettaFi has no obligation or liability in connection with the issuance, administration, marketing or trading of SATO.