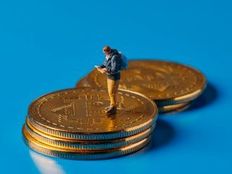 Venture capitalist Tim Draper has been a staunch bitcoin bull and sees no reason to stop now even after a 2022 that saw the leading cryptocurrency drop over 60%. Draper sees bitcoin reaching as high as $250,000 in the new year.
As , "Bitcoin bull Tim Draper had one of the most optimistic calls on bitcoin of 2022, predicting the token would be worth $250,000 by the end of the year."
As mentioned, Draper's call comes after bitcoin's value dropped significantly in 2022 after reaching almost $70,000 near the end of 2021. Bitcoin has been following stocks and bonds on the way down last year amid rising inflation, souring the taste for nearly all investment assets.
It also didn't help that the collapse of cryptocurrency exchange FTX added additional downward pressure on bitcoin's price. Nonetheless, Draper has held steadfastly to his bold prediction.
"In November, the billionaire venture capitalist said he's extending the timeline for that prediction until mid-2023," the report added. "Even after the collapse of FTX, he's convinced the coin will hit the quarter-of-a-million milestone."
Bitcoin will need the help of a tangible catalyst, especially with trading volumes lower after a rough 2022. A potential price booster could come in the way of further adoption by the masses, especially when it comes to retail spending.
"My assumption is that since women control 80% of retail spending, and only 1 in 7 bitcoin wallets are currently held by women that the dam is about to break," Draper told CNBC.
More Bold Predictions for Bitcoin
Draper isn't alone when it comes to predicting massive gains for bitcoin in the near term. As , cryptocurrency analyst "Dave the Wave" is also seeing massive gains for the cryptocurrency after predicting its collapse in 2022.
Using a technical indicator called the logarithmic growth curve (LGC), "Dave the Wave" sees bitcoin potentially multiplying its price by 10 times in the next couple of years. It might not be as bold of a prediction as Draper's, but it's still an aggressive one nonetheless.
"The previous 'bubble' is effectively 'popped.' However, it is quite something else in the aggregate. Where the speculative excess culminates in a series of punctuated peaks, the corrections provide a baseline of sorts, with this baseline representing a logarithmic growth curve," said the cryptocurrency analyst "Dave the Wave."
---
Content continues below advertisement
For more news, information, and strategy, visit the .