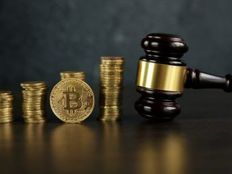 Regulatory measures for the cryptocurrency market may seem like a detriment to an industry that's been operating as a decentralized network, but they could also be a catalyst that could bring more investors to the space.
For bitcoin in particular, those measures could be what it needs in order to continue gaining acceptance within traditional financial market players. A CoinDesk article highlighted how regulation by the Commodity Futures Trading Commission could help boost bitcoin's price.
"Growth might occur if we have a well-regulated space," said CFTC chairman Rostin Behnam during a fireside chat at NYU School of Law. "Bitcoin might double in price if there's a CFTC-regulated market."
According to the article, Behnam has been a proponent of providing, "market participants with regulatory clarity – something that many in the crypto industry have argued is lacking."
As mentioned, this could open the pathway for institutional investor capital to continue entering the crypto market, thus bolstering bitcoin's price.
"These incumbent institutions in the crypto space see a massive opportunity for institutional inflows that will only occur if there's a regulatory structure around these markets," Behnam said.
"Non-bank [crypto] institutions thrive on regulation, they thrive on regulatory certainty, they thrive on a level playing field," Behnam added. "And they may say otherwise, they might bicker about the type of regulation – but what they love most is regulation because they are the smartest, the fastest and the most well-resourced. With those attributes, they can beat everyone else in the market."
Actively Managed Exposure to Bitcoin Futures
Investors who want to get bitcoin exposure and to avoid investing via a cryptocurrency exchange can opt for the ProShares Bitcoin ETF (BITO ). The fund provides exposure to bitcoin futures, tailing the price movements of the leading cryptocurrency on a normal market exchange.
BITO certainly played a large role in catapulting bitcoin to its November all-time high with it becoming the first U.S. exchange traded fund (ETF) to focus on the leading cryptocurrency. While crypto purists may be skeptical about a futures ETF, it can work for investors looking for alternate exposure.
Furthermore, the fund is actively managed, giving investors the peace of mind of knowing that their investment is in the hands of seasoned portfolio managers. Bitcoin can be a volatile asset, and active management can make portfolio changes on the fly when market conditions warrant an adjustment.
For more news, information, and strategy, visit the Crypto Channel.
---
Content continues below advertisement