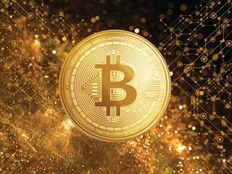 Bitcoin is already on a torrid pace through the first three and a half months of 2023, but some crypto market observers believe that the largest digital currency is poised to rocket higher over the next several weeks. Should that move materialize, it could facilitate upside for crypto-correlated, equity-based exchange traded funds such as the (SATO ).
Home to 36 stocks as well as a 13.27% stake in the Grayscale Bitcoin Trust (GBTC), SATO makes for an ideal avenue for participating in possible bitcoin upside without having to directly own the cryptocurrency.
In an interview with Barron's, Vetle Lund, an analyst at crypto research group K33, highlighted bitcoin's near-term technical picture, which indicates that sizable gains could be afoot over the next month.
"While no one should expect a one-to-one mirroring of the current drawdown to previous drawdowns, the resemblance to the 2018 drawdown is staggering," Lund said. "If history repeats, Bitcoin will peak around May 20 at $45,000."
Bitcoin was trading around $30,340 late Tuesday, indicating that a move to $45,000 over a month would undoubtedly be impressive. The last time bitcoin traded around that level was in early 2022, but that was as it was selling off from its November 2021 level as the crypto winter of 2022 set in.
A nearly 50% move in a matter of weeks, even for bitcoin, is a tough road for any asset. However, it's not completely out of the realm of possibility for bitcoin because there are potential catalysts looming, including the Federal Open Market Committee (FOMC) meeting on May 3.
"The rally across cryptos this year has largely come amid expectations that the Fed will soon become more accommodative on monetary policy — a narrative that will continue to shift ahead of the central bank's next decision on May 3," according to Barron's.
As for SATO, the Invesco ETF's leverage to bitcoin price action beyond GBTC is clear. Many of the ETF's other holdings are crypto miners — an asset class highly tethered to goings-on in spot crypto prices. SATO's sensitivity to bitcoin prices has been on full display in recent weeks, as the ETF is higher by 30% over the past 90 days. Roughly 84% of the fund's equity holdings reside in mid- and small-cap territory.
For more news, information, and analysis, visit the Crypto Channel.