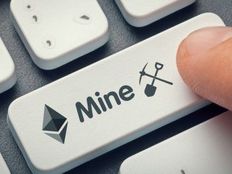 The White House has its sights sets on a proposed levy that would compel the crypto mining industry to reduce its carbon footprint. However, some states are signaling more hospitable tones, revising laws that could make it easier for crypto miners to operate in those jurisdictions.
That could be a longer-ranging positive for exchange traded funds such as the (SATO ).
State by State Crypto Mining
For example, Governor Greg Gianforte (R-MT) signed S.B. 178 into law earlier this month. It prevents Montana towns from setting punitive utility rates for crypto miners.
S.B. 178 reverses an often-contentious history between crypto miners and some Montana towns. Now, the state could be poised to compete with neighbor Wyoming in terms of generating crypto-related government receipts and potentially creating jobs.
Montana isn't the only state warming to the industry, even as the federal government considers miners as a source of climate-related tax revenue.
"For example, in April, lawmakers in the Texas state Senate introduced a bill aimed at limiting incentives for crypto miners through participation in a program intended to compensate them for load reductions on the state's power grid," reported Turner Wright for Coin Telegraph.
Last month, Arkansas passed a bill mirroring Montana's legislation. It streamlines crypto mining regulations and perhaps makes the Southern state more hospitable to bitcoin miners. A similar effort was stymied in Mississippi after it passed the state House there. However, it could be revived in a future legislative session. Arizona is among the other states considering legislation that could be conducive to luring the bitcoin mining industry.
"This recent move by the State of Montana is encouraging in the cryptocurrency market, as it will enhance the adoption and use of BTC across the State and worldwide. Moreover, Montana's move could pave the way for other states to follow suit, fuelling a broader trend towards cryptocurrency-friendly legislation nationwide," according to The News Crypto.
---
Content continues below advertisement
SATO's Exposure
Bitcoin mining is energy-intensive due in part to competition among miners and network activity. Those traits often compel miners to consider locations in states with abundant energy resources. They could also move to states that will provide incentives for adoption of renewable energy.
SATO's roster of 37 holdings features significant exposure to crypto miners. As a result, the Invesco fund is a credible avenue for investors looking to wager on a small-cap rebound. More than three-quarters of the ETF's components are classified as small-cap equities.
For more news, information, and analysis, visit the Crypto Channel.
VettaFi LLC ("VettaFi") is the index provider for SATO, for which it receives an index licensing fee. However, SATO is not issued, sponsored, endorsed or sold by VettaFi, and VettaFi has no obligation or liability in connection with the issuance, administration, marketing or trading of SATO.