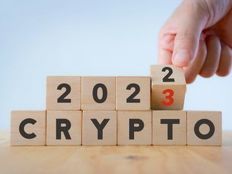 Following a topsy-turvy 2022, crypto investors could use a more sanguine environment in 2023. It's possible that will come to fruition, but headline risk is a fact of life with this asset, confirming that crypto market participants need to be proactive and anticipatory this year.
That doesn't diminish the potential rebound cases for exchange traded funds such as the . Rather, investors that know what they're getting and are prepared for crypto market-moving events this year that could bolster their chances of success.
Indeed, there are likely to be plenty of events that affect bitcoin prices and the broader cryptocurrency ecosystem, but some goings-on will be more material than others. Those include macroeconomic data like inflation, interest rates, and recession evidence — all of which hampered bitcoin last year.
"Unlike in previous crypto winters, however, macro forces outside the crypto industry are the biggest drivers of the market. Many believe it was the Fed, with its inflation-fighting rate hiking plans, that pushed crypto into the well and that it'll take a reversal by the Fed to turn the market around," reported Tanaya Macheel for CNBC.
Regarding SATO's 2023 outlook, the ETF's focus on crypto-correlated stocks could prove useful, as it's widely expected that U.S. regulators will increase scrutiny of the crypto space in the wake of the FTX collapse.
"With so many investors getting hurt in 2022 from the mistakes of centralized crypto companies, the drumbeat for regulatory clarity is getting louder," according to CNBC. "Investors as well as entrepreneurs in the space are eagerly waiting for Congress or the Securities and Exchange Commission, or both to issue laws and guidance on how crypto assets will be regulated. If that were to happen, it'd be a positive catalyst for the market, according to Lisa Ellis, senior analyst at MoffettNathanson."
In addition to regulation, the "Shanghai upgrade," how crypto recovers from the FTX collapse, and the goings-on with Digital Currency Group (DCG), some crypto market observers see ethereum's possible transition to deflationary asset status as a potential catalyst for the second-largest digital asset in 2023.
"Over the past week, Ethereum has flipped 'deflationary,' meaning the supply is declining as opposed to increasing, as it historically has. That's a psychological threshold for the crypto space. If it persists, it could have a bigger impact on order books, which most people expect will elevate prices, according to Michael Rinko, venture associate at AscendEX," concluded CNBC.
vettafi.com is owned by VettaFi, which also owns the index provider for SATO. VettaFi is not the sponsor of SATO, but VettaFi's affiliate receives an index licensing fee from the ETF sponsor.
For more news, information, and strategy, visit the Crypto Channel.