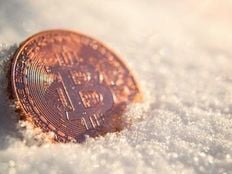 Bullish cryptocurrency investors have to be impressed with the January they just had. That said, the overall crypto market is taking a breather to start February, leaving questions to be asked. Namely: What's next — more upside or weakness as investors await the direction of interest rates?
The traditional stock market is already on edge about what the U.S. Federal Reserve may or may not say at its next decision on the direction of interest rates. Crypto markets are also on Fed watch, especially given the way that they followed traditional markets last year as high inflation applied downward pressure on stocks and bonds.
Of course, crypto followed in tow, putting its non-correlated asset status in jeopardy. As the crypto market began to recover late last year, it got hit with the collapse of cryptocurrency exchange FTX, which dealt a final blow to close out the year.
Of course, what comes up must eventually come down and vice versa. After a tumultuous 2022, bitcoin started the new year strong, but the proverbial air could be coming out of the tires.
"After the impressive rally in January, Bitcoin seems to be taking a breather in February," a Coin Telegraph article said. "This is a positive sign because vertical rallies are rarely sustainable. A minor dip could shake out the nervous longs and provide an opportunity for long-term investors to add to their positions."
The question now remains if bitcoin and the broader crypto market can sustain the rally after the recent pullback. As noted, that could also depend on whether the Fed continues to tighten monetary policy, especially after hot jobs data that saw companies add to their payrolls.
"The opinion remains divided, however, on whether Bitcoin has bottomed out or not," the article added. "Some analysts expect the rally to reverse direction and nosedive below the November low while others believe the markets will continue to move up and frustrate the traders who are waiting to buy at lower levels."
Play Both Sides of the Coin With ETFs
Exchange traded funds (ETFs) can allow investors to get in on the bitcoin price action without investing directly in the digital currency itself. Consider the (BITO ) and the (BITI ).
For the bulls, BITO builds capital appreciation through its bitcoin futures contract use, allowing investors to get exposure to bitcoin price appreciation within the regulatory framework of a traditional financial exchange. For the bears, BITI seeks daily investment results equal to the inverse (-1x) of the daily performance of the S&P CME Bitcoin Futures Index, allowing traders to profit off price declines in bitcoin.
For more news, information, and analysis, visit the Crypto Channel.
---
Content continues below advertisement