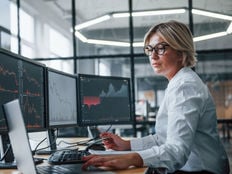 Direct indexing was once an option only reserved for "the ultra, ultra-high-net-worth" investor, as Vanguard's CEO Tim Buckley described it. But thanks to technological advancements within the strategy, interest in direct or personalized indexing has increased rapidly in recent years.
Direct indexing is an individual account that's managed to track an index, like a separately managed account. As opposed to a mutual fund or ETF, with this type of account, the investor directly buys and owns the underlying securities of an index to mirror it without using an index fund.
At the end of 2022, more than $260 billion was following direct indexes, according to a survey of some of the largest providers. Morningstar expects assets to continue growing at a steady pace.
"Asset managers have been keen to take part in direct indexing as it has taken off and have tried to move fast," according to Morningstar. "They want to bring services long available to the ultra-rich to a broader range of investors with smaller accounts. To do so, they need access to the technology necessary to personalize and tax-manage investor accounts at scale."
One way that technology has advanced in a way that appeals to investors is that it's enabled direct indexing services to regularly screen for tax-loss harvesting opportunities. A service like Vanguard Personalized Indexing automatically scan portfolios throughout the year for tax-loss harvesting and rebalancing opportunities.
VPI's software scans the portfolio for harvesting opportunities at a set frequency (daily, quarterly, or monthly). Generally, the more frequent the scans, the higher and more consistent it is. It can also help capitalize on volatile markets without violating the wash-sale rule.
According to Vanguard, the differences in tax-loss harvesting opportunities alpha can range from 20 to more than 100 basis points. When considering a direct indexing strategy for its tax-loss harvesting abilities, those with daily harvesting scans "is critical to achieving the maximum harvest in 'typical' (non-high) volatility environments," Vanguard added.
More information about VPI can be found online.
For more news, information, and analysis, visit the Direct Indexing Channel.
---
Content continues below advertisement