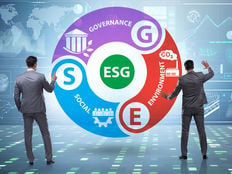 Investors increasingly want to reflect their values in their portfolios through environmental, social, and governance (ESG) investing. And while there are many ESG-focused ETFs to choose from, some investors have very precise needs for their socially responsible investments that an off-the-shelf fund won't provide. For those investors, direct indexing services such as Vanguard Personalized Indexing be an option to consider.
A direct indexing portfolio is a separately managed account based on a benchmark whereby the investor owns the individual stocks that represent the chosen index. According to Vanguard, investors can customize their needs and preferences, include their religious preferences, avoid companies they believe are involved in objectionable activities, or support businesses that pay their employees a fair living wage or that advance diversity on their boards.
Direct indexing benefits from its structure and user-friendly technology. With ETFs, investors own a basket of securities bundled together. But with a Vanguard Personalized Indexing portfolio, investors own the individual stocks directly in a fully customizable separately managed account.
Vanguard Personalized Indexing offers a range of negative screens and positive tilts for investors to choose from. "Tilts let clients express support of companies that engage in 'good' behavior on an issue, whereas screens let them express disapproval of 'bad' behavior by a company," according to the investment giant.
While Vanguard CEO Tim Buckley said at Exchange 2023 that direct indexing "was reserved for the ultra, ultra high net worth" investor, its use cases could be expanding to a broader investor base. Buckley added that direct indexing is something that the company will "be investing heavily" in.
For more news, information, and analysis, visit the Direct Indexing Channel.
---
Content continues below advertisement