Disruptive Technology Channel
Disruptive innovation investing may have itself been disrupted by the past year's broad market selloff, but with investors pricing in slower rate hikes from the Fed, markets are turning back to tech. 2023 offers the opportunity for technologies like the popular AI function ChatGPT to converge, and with a $500 billion addressable market accessible in a 3D printing ETF, it may be time to take a look at the (PRNT B-).
What does it mean for technologies to converge? The central theme of ARK Invest's recent Big Ideas 2023 presentation, the convergence of technology like artificial intelligence, electric vehicles, 3D printing, and more can create "unprecedented growth trajectories" as each area contributes to the others.
AI specifically stands to catalyze areas like 3D printing, with sensor-enabled machine learning able to help 3D printers improve accuracy, strength, and repeatability. Higher accuracy could produce parts with fewer defects than human-driven 3D printing, for example, while AI provides repeatability and scale for 3D printer suites.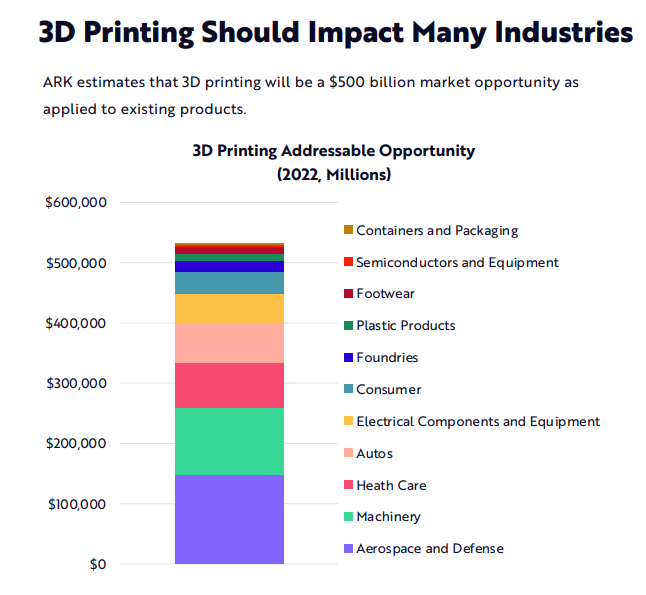 Add in the potential for doctors to use patient-specific 3D printed models to plan surgeries and customized 3D printed tools, and according to research from ARK, 3D printing could reduce total time in U.S. operating rooms by 5%, saving $12.5 billion. It could also help meet patient surgery demand; health systems and services fall short by about 140 million cases per year.
As such, a 3D printing ETF like PRNT may be a solid candidate for a disruptive innovation-focused portfolio slice this year. PRNT tracks the Total 3D-Printing Index, charging 66 basis points for its exposure to the tiered, equal-weighted index of about 50 firms with business lines like hardware, software, and scanners assigned weights.
PRNT has seen its returns increase over the last three months, from 11.6% over the last three months to returns of 14.9% over the last month alone. The 3D printing ETF is also approaching a golden crossover, currently sitting well above its 200-Day SMA of $22.4 at $23.55.
3D printing not only has use cases across several industries, but it also benefits from the convergence of technologies like AI and robotics. According to data from PitchBook and S&P Global Market Intelligence, the enterprise value for next-generation manufacturing in 3D printing could reach $700 billion by 2030. For investors drawn to the opportunity offered by 3D printing, PRNT is a strategy to watch in the weeks and months ahead.
For more news, information, and strategy, visit our Disruptive Technology Channel.
---
Content continues below advertisement