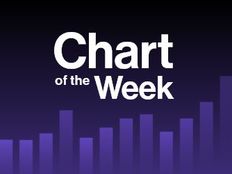 Disruptive Technology Channel
In May, VettaFi hosted a webcast with KraneShares about electric vehicles. In addition to providing education about the investment trend, we asked the audience of advisors some questions. We learned that more respondents were focused on investing in the AI theme (69%) than electric vehicles or healthcare technology (44% each), robotics (41%), or clean energy (38%).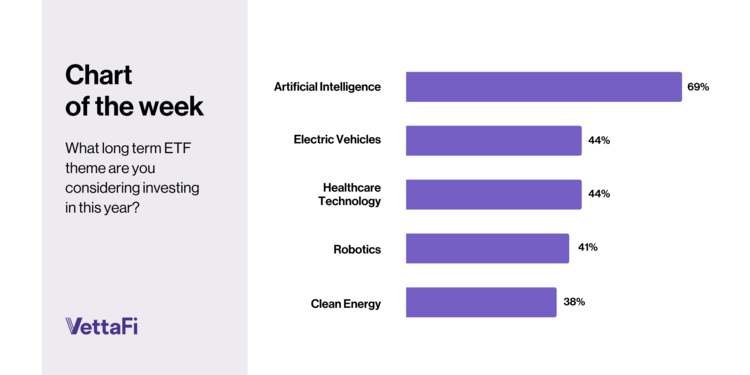 AI Impacts Many Sectors  
Some believe the advent of AI could disrupt every organization, industry, and aspect of our lives. When advisors think about AI investing, they likely focus on Alphabet, Apple, Meta Platforms, Microsoft, and NVIDIA dominating the space. However, many other companies are connected to AI. For example, in healthcare, digital imaging technology powered by AI can detect cancer better than a trained physician. In agriculture, some farmers are relying on deep learning techniques to improve crop yields. Smart sensors and appliances in the home allow users to order everything from groceries to movies with the touch of a button.  
Though AI is gaining traction as an investment theme, demand remains relatively limited for focused ETFs. Let's look at some thematic ETFs and what they own. 
The (AIQ B-) has $200 million in assets. The bulk is invested in information technology stocks (61% of assets). However, the fund has large stakes in communications services (15%), industrials (12%), and consumer discretionary (11%) securities as well. Meta, Micosoft, NVIDIA, Salesforce, and Tesla were recently the five largest positions. AIQ charges a 0.68% fee and rose in value by 19% in the one-year period ended May 26. 
---
Content continues below advertisement
What's Inside THNQ Is Worth Thinking About 
The (THNQ C) has $30 million in assets. THNQ has even more invested in information technology stocks (71%), but it also has consumer discretionary (11%) and communication services (6.3%) stakes. From a sector perspective, the bigger difference between AIQ and THNQ is the latter's large 5.9% stake in healthcare companies, like Illumina, and its minimal exposure to industrials (3.2%). Alphabet, Amazon.com, Microsoft, NVIDIA, and Shopify were its top recent positions. THNQ also has a 0.68% expense ratio and climbed 18% in the past year.    
The (WTAI ) manages $25 million in assets. WTAI has the biggest stakes in the information technology sector (80% of assets) with consumer discretionary (6.6%) as the next largest sector. Advanced Micro Devices, Meta, NVIDIA, ST Microelectronics, and Synopsys were WTAI's biggest recent stakes. The WisdomTree ETF has the lowest expense ratio of the trio at 0.45%, but was up only 4.7% in the past year. 
There are also other ETFs, such as the (ROBT B+) and the (IRBO B+), that are partially connected to the AI theme as well as robotics.  
To help advisors, VettaFi is hosting a webcast next week on AI investing, moderated by my financial futurist colleague Dave Nadig. Please register to attend.  
For more news, information, and analysis, visit our Disruptive Technology Channel.