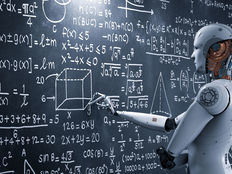 Disruptive Technology Channel
The ARK Industrial Innovation ETF (ARKQ B), an actively managed exchange traded sponsored by ARK Investment Management, is changing its name to "ARK Autonomous Technology & Robotics ETF."
Currently, ARKQ captures the converging industrial and technology sectors, capitalizing from autonomous vehicles, robotics, 3D printing, and energy storage technologies. Over the years, the $172 million fund has become known for impressive performances as well as being one of the ARK ETFs with large exposure to Tesla Inc.
A filing with the Securities and Exchange Commission (SEC) indicates the fund officially changed its name on Thursday, Sept. 5.
"Currently, in seeking to achieve the Fund's investment objective of long-term growth of capital, the Fund invests under normal circumstances primarily (at least 80% of its assets) in domestic and foreign equity securities of companies that are relevant to the Fund's investment theme of industrial innovation," according to the filing.
Changing Things Up
ARKQ's investment objective change could bring more exposure to the fast-growing and highly lucrative robotics market.
Robotics and artificial intelligence are making machines smarter and more capable than ever before, allowing robots to take on increasingly sophisticated tasks for faster and more accurate production. Several sub-groups of artificial intelligence and robotics spaces could be major drivers of the themes' returns in the coming years, including industrial robots.
"Scores of academic studies and industry-level data point suggest the world is becoming increasingly automated and that robotics applications are developing at a fevered pitch," according to Nasdaq. "For BOTZ, one driver is increased demand for robots. If that isn't realized, the investment thesis is weakened. Fortunately, demand is quite robust."
Related: Tesla Making Moves In China Say Analysts
Several of ARK's other actively managed ETFs focus on rapidly growing, disruptive investment niches and those funds have long delivered stellar returns.
"Autonomous technology and robotics companies are companies that ARK Investment Management LLC believes are expected to focus on and benefit from the development of new products or services, technological improvements and advancements in scientific research related to, among other things, disruptive innovation automation and manufacturing ('automation transformation companies'), transportation, energy ('energy transformation companies'), artificial intelligence ('artificial intelligence companies') and materials," according to the filing.
This article originally appeared on ETFTrends.com.
---
Content continues below advertisement