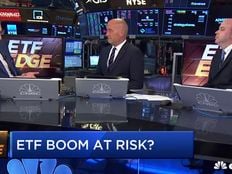 Disruptive Technology Channel
While tariffs and trade have been dominating headlines, CNBC's "ETF Edge" host Bob Pisani on Monday focused on forces like technology and growth opportunities in the markets. He invited ARK Invest CEO Cathie Wood onto his show alongside ETF Trends CEO Tom Lydon and CFRA's Todd Rosenbluth to discuss where the new tech leadership and opportunities are coming from.
As the head of the ARK Innovation ETF (ARKK B+), an actively managed fund targeting companies poised to benefit from disruptive innovation in one of three areas: Industrial Innovation, Genomics, or Web X.0, Wood discussed how ARKK is their flagship ETF. It's up 20% this year, outperforming others. Bets are there with Tesla, as well as the genomics business.
Wood said the top sector was actually health care, noting the genomic space is on the threshold of curing diseases.
"It's happening because of DNA sequencing, and CRISPR gene editing, but these companies are not valued as though that is actually going to happen," Wood said. She also noted how the three major CRISPR companies own the foundational patents together, which amounts to $5 billion in market cap.
What's Holding Genomic Innovation Back
When asked why the market would not give them higher numbers, Wood explained how the dream of reality makes investors fearful of many things. This includes the out-of-this-world notion of actually curing diseases.
Illumina Inc. (ILMN) was pointed out as one of ARKK's holdings that faced this problem. This is a company that works on foundational gene sequencing and has a significant holding in ARKK. Wood detailed how Illumina has had 6% growth, which is not what the company is capable of. It's clear to Wood that costs can be cut down to, thanks to "an explosion in genomic sequencing."
Wood continued by noting how last year saw a half of all human genomes ever sequenced, which should show how we're in an exponential growth trend, that could lead to a 40-fold increase, as costs come down significantly.
Wood said she believed the Genomics space has a lot of proactive things going on and the disconnect coming from seasoned health care analysts, as opposed to the fresher analysts with ARK, who are bullish on CRISPR gene editing.
Revenues will ideally be generated this year if current human trials prove to be successful in curing pediatric blindness, and Wood is very confident in positive results, citing that she believes in the efficacy of the CRISPR technology.
"No one believes this is going to work. That's why they're priced the way they are… All the potential risks you're talking about have been baked in," Wood said, clarifying why things are what they are, even with the science to back it up.
Rosenbluth noted how growth stocks may fall sharply, but investors need to understand it's essential to look forward, and not just at the past track record.
To this, Woods noted how the price targets have actually gone up in the last six months, and the bear case is around $600, while the bull case has gone up to $6,000. This is all a great way of saying investing in genomics stands to be a good look at the future.
---
Content continues below advertisement
Watch Monday's full ETF Edge show below:
For more market trends, visit ETFdb.