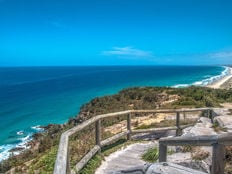 Disruptive Technology Channel
The fintech theme is soaring to start 2020 and one of its standouts is the ARK Fintech Innovation ETF (ARKF), which is higher by nearly 13% year-to-date after vaulting to another record high last Friday.
ARKF invests in equity securities of companies that ARK believes are shifting financial services and economic transactions to technology infrastructure platforms, ultimately revolutionizing financial services by creating simplicity and accessibility while driving down costs.
One potent ingredient with ARKF is that its active management style doesn't confine the ETF to the domestic fintech space. Rather, the fund features ample international exposure, which is important considering the broad adoption and reach of fintech outside the U.S.
Argentina's Mercadolibre (MELI) and Brazil's StoneCo (STNE), the former of which is a major ARKF component, are among the attractive ex-US fintech names.
Fintech companies looking to carry over their wave of disruption, especially in the online payments space can look to Latin America for potential opportunities. This, in turn, could create interest in fintech-focused ETFs looking to add to their core portfolios of financial disruption companies by looking outside of developed markets.
In Latin America, online payments is still a relatively new concept as opposed to more developed economies where they have become standard fare.
"MELI and STNE are lesser known companies with similar businesses and similar charts. MELI is mostly known as an e-commerce firm — something of a cross between Google and Amazon.com. But the Argentine company is also becoming a financial-service provider by providing loans and financing to millions of small businesses in Latin America," according to TradeStation.
American Names Help, Too
The payment processing space is seeing a growing number of big bets placed by venture capitalists, which could give financial technology ETFs a boost. It's a $1.9 trillion industry that the largest tech firms are trying to tap into
"Stocks like Square (SQ) and PayPal (PYPL) not only stand at the crossroads of the new digital economy. They've also outperformed the S&P 500 and Nasdaq-100 by a wide margin so far in 2020," according to TradeStation. "Two Latin American firms, MercadoLibre (MELI) and StoneCo (STNE) make the list as well. That kind of strong price action is a classic sign of investor rotation, a process of large institutions shifting capital into certain industries. The fact it's happening early in the year is another sign of accumulation by new buyers."
Square, Mercadolibre and PayPal combine for nearly 20% of ARKF's weight.
This article originally appeared on ETFTrends.com.
---
Content continues below advertisement