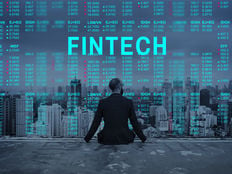 Disruptive Technology Channel
The coronavirus is no doubt giving businesses logistical challenges with a number of operations around the world having to shut down as a precautionary measure to contain the virus. However, the contagion could actually be fueling opportunities for fintech companies that can capitalize on the need for payment processing without consumers having to perform a transaction at a physical place of business.
Per a Finance Magnates report, "Doug Christensen, EVP of strategy at Tier1 Financial Solutions, told Finance Magnates that his company's clients 'are looking to potentially do more with technology, not less, as they think about the impact of servicing and managing their client needs and mitigating risk.'"
Christensen also said in the report that "as our clients put their Business Continuity Plans to test we expect to see more dependency on software solutions to stay informed and connected to service their end clients. As we look ahead–whether its Coronavirus drove change or some other market-moving consideration–we see a greater need for fintech solutions. […] Increased usage and reliance on technology is inevitable to remain competitive."
As more people try to maintain distance between each other, they'll need digital alternatives for cash, which presents an opportunity for fintech.
"Everyone is talking about this being a moment to switch to a cashless, cardless society," said technologist Chris Skinner. "What we really need is for the world to move to mobile payments and facial recognition, like the payment services being rolled out in China."
ETFs to look at in the growing fintech space include the ARK Fintech Innovation ETF (ARKF), an actively managed fund that seeks long-term growth of capital. It seeks to achieve this investment objective by investing under normal circumstances primarily (at least 80% of its assets) in domestic and foreign equity securities of companies that are engaged in the Fund's investment theme of financial technology ("Fintech") innovation.
A company is deemed to be engaged in the theme of Fintech innovation if (i) it derives a significant portion of its revenue or market value from the theme of Fintech innovation, or (ii) it has stated its primary business to be in products and services focused on the theme of Fintech innovation. The Adviser defines "Fintech innovation" as the introduction of a technologically enabled new product or service that potentially changes the way the financial sector works, which ARK believes includes but is not limited to the following business platforms:
Frictionless Funding Platforms
Customer Facing Platforms
For more disruptive technology news and strategy, visit our Disruptive Technology Channel.