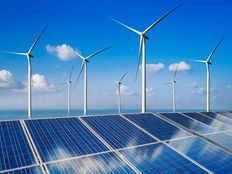 Disruptive Technology Channel
It's not a fluke that alternative energy ETFs, including the ALPS Clean Energy ETF (ACES A-), were among last year's best-performing ETFs. Nor is it a fluke these funds, ACES included, are soaring to start 2020. Data confirm as much.
ACES Could be Awesome
"Wind will be #1 in 2020 with a total of 18.5 GW of capacity coming online. It is worth mentioning these newer turbines have higher capacity factors than previous turbines. Additionally, wind power is reaching into newer markets as turbines have been designed to fit a variety of wind speeds," according to CleanTechnica.
ACES' components provide the products and services that enable the evolution of a more sustainable energy sector. The green energy companies are engaged in renewable energy sources, including solar power, wind power, hydroelectricity, geothermal energy, biomass, biofuels, and tidal/wave energy; clean technologies, including electric vehicles, energy storage, lithium, fuel cell, LED, smart grid, and energy efficiency technologies; and other emerging clean energy activities and technologies.
"Solar will grow to 13.58 GW in 2020. The red state of Texas will add 22% of utility-scale solar. Texas has a great chance to lead the nation in renewable energy," notes CleanTechnica. "Wind in the desert plains of West Texas is very consistent at night. Conversely, wind along the coast of Texas is most consistent in the afternoon and evening. Then, of course, solar power only produces during the day. This wide variety of sources really helps, since much less energy storage will be required."
This article originally appeared on ETFTrends.com.
---
Content continues below advertisement