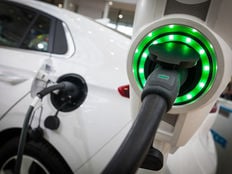 Disruptive Technology Channel
Let's face it — it hasn't been an easy past few months for Tesla (TSLA). The firm that has spearheaded the proliferation of electric vehicles in so many ways has struggled not only due to its own performance as a business, but also due to shareholder concerns surrounding CEO Elon Musk and his controversial purchase of Twitter. Nonetheless, ARK Invest sees a contrarian, buy low opportunity in the firm, with investors able to invest in TSLA via an EV ETF, the .
Why look to TSLA now? The firm cut prices for its cars in the U.S. and Canada this week by as much as 20%, putting its cars in position to qualify for the $7,500 tax credit on purchase that was included in the Inflation Reduction Act. Since it cut prices, TSLA has risen in price more than several big names like GM (GM), Ford (F), and rival electric vehicle makers Rivian (RIVN), which all actually saw price dips.
The firm retains its position as a preeminent EV maker, with its rivals still trying to reach the level of EV manufacturing scale needed to properly compete. That, and the buy low opportunity presented by its significant price dip since last year, are two notable reasons why ARK Invest and CEO Cathie Wood have continued to buy low on TSLA.
One additional reason, though, is ARK Invest's commitment to investing in disruptive innovation. The firm believes in investing in those firms that benefit from significant technological advances — in this case, the frontiers of electric vehicles.
While that belief in disruptive innovation asks investors to have more of a long view, ARKQ itself has offered strong returns of late. The EV ETF has outperformed its ETF Database Category and Factset Segment Averages over the last month with a 6.8% return, ahead of the pair by about 350 and 110 basis points respectively. ARKQ charges 75 basis points for its active approach to advances in energy, automation, manufacturing, and more.
Tech has had a rough go of things over the last year or so, but there are reasons to feel positive, particularly over the long run. EVs are one area that will continue to push forward as global economies look to shift away from fossil fuels, and for investors excited by that opportunity, buying low on TSLA in ARKQ is an option to keep an eye on.
For more news, information, and analysis, visit our Disruptive Technology Channel.