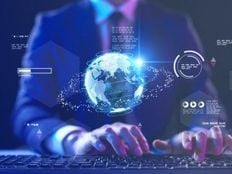 Disruptive Technology Channel
There are plenty of exchange traded funds advertising exposure to internet stocks. Many even sport "internet" in their titles, but in this category, there aren't many identical twins. Moreover, some of the old-guard funds in this group may not be adequately positioned to help investors capitalize on emerging internet trends. One that checks that box is the (ARKW C+). The $1.23 billion ARKW is almost nine years old, so it's not new, but its history of being anticipatory relative to competing internet ETFs is potentially attractive at a time when a spate of new web-based trends is in its infancy.
"The trend toward digital consumption is accelerating. Our analysis suggests that consumers will continue to shift their leisure time from offline to online activities, increasing total online waking hours from ~39% today to 53% in 2030," noted ARK Investment Management analyst Nicholas Grous. "As a result, adjusted for inflation, global digital leisure spending is likely to increase 17% at a compound annual rate from $6.6 trillion last year to $22.5 trillion in 2030, fueled by five consumer trends."
With top 10 holdings including Coinbase (NASDAQ: COIN) and Block (NYSE: SQ), ARKW provides investors with crypto and fintech exposure – two vital themes for Web 2.0 and beyond. Likewise, a 6.67% weight to Tesla (NASDAQ: TSLA) taps into that company's status as more of a tech firm than a traditional automotive manufacturer.
Those are just a few examples, but they underscore the point that the actively managed ARKW is anticipatory of and responsive to new internet trends. Take the case of emerging social media platforms.
"Nearly 40% of Gen Z consumers prefer to search on TikTok and Instagram over Google Search and Maps," added Grous. "Social platforms with the best recommendation engines are likely to dominate ad budgets, with content-based social media like TikTok likely outperforming follow-and-feed social media like Facebook."
Another potential driver of long-term upside for ARKW could be the still-young online sports betting industry and internet casinos. In the case of the former, 33 states and Washington, DC permit some form of regulated sports betting. However, California, Texas, and Florida aren't part of that group. Likewise, not all of those 33 states allow mobile betting. As the number that do increases, so could the benefits to ARKW by way of its 5.09% stake in DraftKings (NASDAQ: DKNG).
Another point to consider is that internet casinos, also known as iGaming, have better margins and growth potential than sports books. Today, just six states permit that form of wagering. As that number increases in the future, ARKW could benefit.
For more news, information, and analysis, visit our Disruptive Technology Channel.