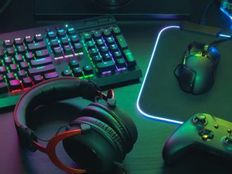 Disruptive Technology Channel
It might feel as though investors' enthusiasm for video game equities and related fare has waned amid the economic reopening following the coronavirus pandemic. That sentiment belies long-ranging opportunity in the space.
When it comes to exchange traded funds with gaming exposure, there are multiple options, including some that aren't dedicated to the industry, but are still in the game. Pun intended. That group includes the (ARKW C+). As its name implies, the actively managed ARKW isn't a traditional video game ETF.
However, ARKW's focus on next-generation technologies with internet ties coupled with its status as an active fund — meaning there's flexibility — make it a relevant part of the gaming ETF conversation. That's a conversation worth having, because the 2023 Game Developers Conference recently wrapped up and one of the takeaways  was that disruptive technologies such as artificial intelligence (AI) will be increasingly prominent in easing development burdens and driving costs lower for game developers.
Some established gaming companies touted AI advancements at the conference. That group includes ARKW holding (RBLX).
"After describing its approach to integrating generative AI, the Roblox team unveiled plans to accelerate content creation with AI code assistants and AI material generators. Head of Roblox Studio, Stefano Corazza, confirmed Roblox's plans to offer AI-generated assets and experiences," noted ARK Investment Management analyst Nick Grous..
As of April 4, Roblox is ARKW's eighth-largest holding at a weight of nearly 5.1%. ARKW's video game exposure doesn't end with Roblox. The ETF allocates nearly 3% of its total weight to (NVDA) and (AMD) — a pair of semiconductor makers with exposure to video game hardware (consoles).
That's fortuitous exposure, both because those are two of the best-performing tech stocks to start 2023 and because Nvidia is one of Wall Street's favorite AI plays.
ARKW also devotes almost 1% of its weight to Xbox maker and Dow component (MSFT). Not only does Microsoft produce one of the top two consoles, it's in the process of acquiring (ATVI) — a transaction that will significantly boost the buyer's gaming software profile. When that acquisition closes, Microsoft will have its hands on the Call of Duty franchise — one of the most venerable in the gaming space.
"According to our research, global gaming software and services revenue will grow 10% at an annual rate during the next five years, from less than $200 billion in 2022 to over $300 billion in 2027, thanks to the convergence of gaming, social media, and generative AI that will turbocharge user-generated content and create a world in which gamers are the creators," concluded Grous.
For more news, information, and analysis, visit our Disruptive Technology Channel.