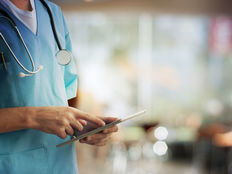 Disruptive Technology Channel
ARKG allocates 10.38% of its weight to shares of Illumina, making it the ETF with the largest weight to that stock. ARKG's stablemate, the  ARK Innovation ETF (ARKK ), is second with an Illumina weight of about 7%.
"After regulators raised significant concerns about the pending combination, narrow-moat Illumina announced that its merger agreement with Pacific Biosciences has been terminated," said Morningstar in a recent note. "The planned acquisition slightly constrained our fair value estimate for Illumina, given the rich valuation that was being offered. Therefore, we are boosting our fair value estimate for Illumina to $285 per share from $264 as this deal falls apart despite the small termination fee ($98 million) that Illumina will pay."
Inside Illumina and ARKG
Illumina is working on foundational gene sequencing, one of the fast-growing biotech segments the actively managed ARKG offers exposure to.
Genomics space has a lot of proactive things going on and the disconnect coming from seasoned health care analysts, as opposed to the fresher analysts with ARK, who are bullish on CRISPR gene editing.
"Illumina aims to transform human health practices through its leadership of genomic sequencing," notes Morningstar. "The firm provides a broad range of instruments and related consumables to help researchers and clinicians identify and understand genetic variations. The scale of these projects can be wide, such as population genomic initiatives being pursued in many countries, or narrow, such as noninvasive prenatal screening. We believe Illumina will continue to benefit from the rapidly expanding applications of genomic sequencing tools through its own innovation and select acquisitions."
Related: Get Giddy For Genomics With This ETF
When investors are looking for more aggressive rates of growth, biotech stocks typically represent some of the best opportunities for rapid appreciation. These companies spend a plethora of time and massive amounts of money to fund breakthrough biological treatments and diagnostic tools. Blossoming developments can literally change their fortunes, and the fortunes of shareholders overnight. Genomics is likely to be an integral part of the biotechnology growth story in the years ahead.
"Over the past decade or so, technological advancements in the sequencing industry have largely been led by Illumina and brought down the cost of assembling one genome from nearly $3 billion in the 13-year Human Genome Project completed in 2003 to $1,000 after Illumina introduced HighSeq X in early 2014," according to Morningstar.
This article originally appeared on ETFTrends.com.
---
Content continues below advertisement